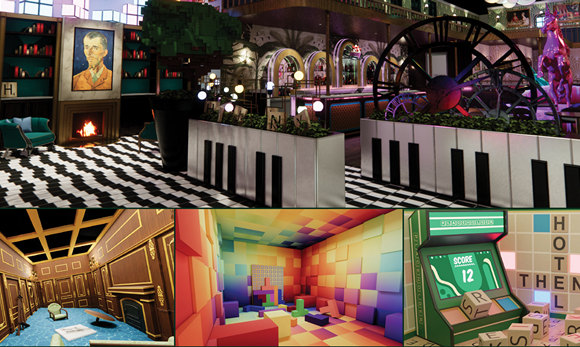 Hijinx Hotel launches in Sydney
Leaders in hospitality-driven entertainment, Funlab, have just launched their latest good-time venue, Hijinx Hotel.
Australia's first ever interactive and immersive challenge-room experience, Hijinx Hotel is a leisure-tainment wonderland of nostalgia where guests 'play, not stay'; a sensory feast of jaw-dropping splendour that is set to level-up any date night, catch-up with mates, or family day out. Featuring a faux hotel lobby, a lift, three cocktail bars and 15 quick-play challenge rooms, guests will be catapulted back to the thrilling days of yesteryear as they rollick amongst the whacky retro decor of Hijinx Hotel.
Likened to a Willy Wonka fever dream, each of the challenge rooms pay homage to a smorgasbord of '80s and '90s cult classic films, TV shows and board-games – all housed on the set of a sophisticated New York hotel facade. After snapping content for the 'gram, guests will call upon skill, cooperation, coordination and a little bit of luck to claim victory in the completely interactive and immersive challenges.
Under the same roof – for the putt-putt enthusiasts – a brand new, never-before-seen 'mega' Holey Moley will be bringing the Alice in Wonderland vibes with its 27 themed holes taking full advantage of the venue's staggering 14-metre high ceilings. Featuring Giant Avocado, Pirate Ship, Jaws and Honey I Shrunk the Kids themed holes, this is a not-to-be-missed extravaganza of unparalleled proportions.
Hijinx Hotel Challenge Rooms include:
Adore-a-ball – Players need to find the gold balls amongst the pit of clear balls, and insert them through a target. For every gold ball that goes through the target, your team will earn one point.
Shape'n Up – A pattern of blocks will appear on the back wall and your team needs to match the pattern using the foam pieces. For every correct sequence, you'll score a point.
Neon Daydream – A ball will be released from the top of a wall & players will have 6 handles around the room to manoeuvre paddles to redirect the ball down the pinball machine.
Alley-Oops – Every shot you make through the hoop is worth one point. Be on the lookout, when all lights under a basket are lit, the next is worth bonus points.
Draw Me Like One Of Your French Girls – To keep this ship afloat, you and your team must find all the leaks – or, small illuminated buttons throughout the room. Once you find the leak, hold down the button while looking out for the next that illuminates. Continue to do this until your team is unable to push another button. When you release, you'll need to start again.
Breakfast of Champions (Cereal Bowl) – Captain Crunch eat your heart out! Teams must find the gold balls in the ball pit and insert them through the target on the milk cartoon. For every gold ball through the target, one point is awarded.
Poke A Dot – When any of the many buttons in this room illuminates, your team has to push the button as quickly as possible. This repeats, with more buttons being active and for an increasingly shorter duration.
Major Minor – Feel the rhythm in your feet, and watch on while the giant floor piano keys light up to play a sequence of notes. Your job is to repeat the sequence by stepping on the keys without making a mistake to earn points.
Carnivalley – Teams must throw balls into the carnival creature's mouths and for every ball that goes through, you're awarded one point. Keep your eyes peeled though, when a target is illuminated, then that hole is worth more points for a limited time.
Scrambled – You and your team need to spell the correct word to the clue using the lettered cubes. If you're correct, you'll get a point and a new clue will appear.
Hijinx Hotel @ 75 O'Riordan St, Alexandria
Adults: $25 per person, per set.
Under 18s: $20 per person, per set.
Sydney Unleashed is one of Australia's premier entertainment publications exploring the latest in lifestyle trends. From Sydney's finest restaurants, cafes and bars to the hottest in gadgets, products, and home entertainment, Sydney Unleashed is your one-stop lifestyle platform.