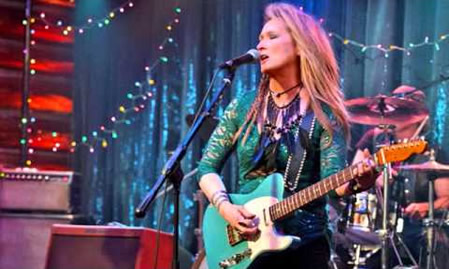 Meryl Streep sings in Ricki
One of the most applauded movie stars of our time, an actress whom all other actors worship with a record of 19 Academy Award nominations for three wins, Meryl Streep returns to the big screen seemingly stepping out of her comfort zone to play an aged rock chick.
This is no 'Sophie's Choice' or 'Out of Africa'. Learning to play the guitar for the role of lead singer Ricki to her band The Flash, she also performs several songs on the soundtrack live including impressive variations of tracks from Bruce Springsteen and Lady GaGa.
Covering the stage presence like a veteran in the industry, all tunes on film were recorded live without a hint of any lip syncing nonsense. With Jonathan Demme in the director's chair, he certainly knows how to film a stage show. Stop Making Sense was a 1984 cinema-released Talking Heads concert film that stands the test of time remaining a classic through sight and sound. It also helps that her co-star is none other than '80s heartthrob Rick Springfield.
It may be a surprise to some that Meryl has in fact been crooning in films for many years. ABBA songs got a workout when Mamma Mia became a surprise 2008 hit, the ensemble finale of Waterloo was a highlight but her solo of the title song was the next best thing to the original. Streep managed to gain approval from Benny and Bjorn to star in the film which is some kind of recognition in itself. However, on the other end of the spectrum, poor Pierce Brosnan was universally panned for his non-singing talents.
Long before this cinematic arrangement of ABBA songs, Meryl Streep belted out commendable melodies in movies that could well be forgotten moments within her illustrious career. One of the greatest veteran performers of song and dance ever, Shirley MacLaine plays Streep's outrageous mum in 1990 Hollywood behind the scenes drama, Postcards from the Edge. However it's Meryl that steals the limelight from her esteemed colleague with a couple of big band numbers. Singing in a 1950s style va-va-voom opening scene of 1992 obscure black comedy 'Death Becomes Her', she sets up the madness for the rest of the excellent satire with Meryl not missing a beat until heads start turning later in the film.
Studying opera as a child perfecting her voice at a young age, Streep was controversially rejected as lead in the 1996 film version of Evita for Queen of pop Madonna who went on to win a Golden Globe best actress in the role. Opera of another kind was practiced by Streep in the underrated 1987 depression era love story Ironweed opposite Jack Nicholson. Not sober in any of her screen time complete with rotten teeth and a frizz of unkempt hair, she still holds an extremely good tune.
A Prairie Home Companion (2006) showcased her vocal talents in the world of country music as a siren on a celebrated radio show. Part of another ensemble fused together by the late maestro Robert Altman, her twang in the genre seemed formidable among the best. Teaming up with the irrepressible Carly Simon, Meryl went back to basics to duet for the theme song to Marvin's Room (1996) starring a then very young Leonardo DiCaprio, while the big bold Walt Disney screen adaptation of Into the Woods not only garnered her most recent Oscar nomination but took Mary Louise Streep into the realm of Broadway recognition, her singing was praised by peers and colleagues.
Extending the repertoire in Ricki and the Flash, Meryl will no doubt be remembered for her full on rock show persona and dramatic moments with real life daughter Maimie Gummer also appearing. In a recent interview, Meryl admitted that the tele-prompter was her best friend. Be that as it may, the soundtrack is top of the pops thanks to her contribution and any film with this actress is worth the ticket.
You may ask when was the prime of Meryl Streep, is it now, is it back when Kramer Vs Kramer was the must-see movie of 1979 or when a whole new legion of fans adored her in The Devil Wears Prada. The answer is, there is no prime. She moved audiences from the beginning and will forever, just like the late great Bette Davis who wrote Streep a letter of approval as a worthy screen successor. Personally I loved Meryl in action mode opposite Kevin Bacon in The River Wild but as a singer, it's simply ironic one of the greatest thespians of our time can engulf every single moment on stage. It's like you're sitting front row for the hottest concert in town.
Shane A. Bassett
Sydney Unleashed is one of Australia's premier entertainment publications exploring the latest in lifestyle trends. From Sydney's finest restaurants, cafes and bars to the hottest in gadgets, products, and home entertainment, Sydney Unleashed is your one-stop lifestyle platform.