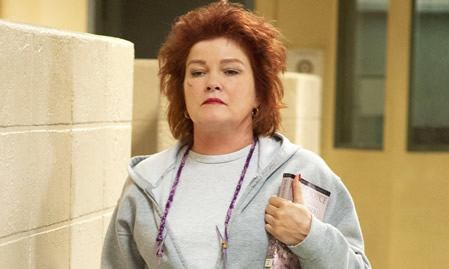 Orange Is the New Black's Kate Mulgrew
Award-winning NETFLIX favourite, Orange is the New Black (now in its sixth season), is a television anomaly setting standards for prison drama keeping things fresh while devouring personalities and crucial unforgettable story arcs. Part of the ensemble from the beginning, wonderful Kate Mulgrew, is Russian inmate Red. She's kind of an unofficial leader, tough with a warm heart. Having been to Australia around five times, and finding it absolutely beautiful, stunning flaming screen veteran Kate Mulgrew admits she loved Melbourne most, although Sydney and Perth also spectacular. Next time a visit to the Gold Coast is on the agenda. Speaking with this lovely thespian many may only know from Star Trek Voyager, or fondly remember in Throw Momma from the Train (1987), I quickly discover passion for the show, dedication to Red.
How much is this series different to previous?
KM – Lives are now being determined like a chess game and mine is most at risk, I believe. So we see the extraordinary vulnerability then cost of betrayal to what it does to a person like Red. She had only that to go on for, the depths if friendships, unquestionable loyalties, all now compromised. Nothing is what it once was, the sand is loose between her feet, Red is sinking while no one is to be trusted.
What can fans most expect?
KM – Harrowing, unexpected betrayal. Red is making decisions, choosing life or death within seconds that include family or murder. Reaches a boiling point so hyper sensitive that everything turns on a pinhead. An exploration of betrayal taking someone with potential decency, to have every part of her threatened.
How much authority does Red lose?
KM – By virtue of physical nature of maximum security, it's lost. I try to communicate with my girls but increasingly difficult and dangerous, that's when Red is at her most vulnerable.
Were you introduced to new cast members before acting alongside them?
KM – No, we never were in the past either, just thrown into the cage, that's the way it would be so that's the best way. My new cellmate is a young tough Boston girl, shes been around and I don't like her, she doesn't like me but find a way to join forces. Red always finds a way to work with bad girls as she is a bad girl, although her core is decent.
Did you have to audition in the beginning for Red?
KM – I auditioned like most actors, just the way it goes, an important role that many actors wanted to play. I trudged down to audition…feeling very good that afternoon, although they only gave me a slim copy to work with explaining they only wanted a suggestion of a Russian background, not deep. Instantly, the Red you see is the Red that leapt out of my mouth that day indicating to me, and evidently to them, an instant character.
Did the accent come naturally?
KM – It did, Russian dialect is deep in the throat, difficult to apply any accent to maintain to be understood above and beyond all. Clarity is important while I research Russian language, it's diabolically challenging. I've tried the Australian accent, it's easier than Russian.
You're close to Natasha Lyonne in the show, have there ever been moments when you may have been too emotional to hit the mark?
KM – No, I don't do that as a professional. If it is going to overwhelm me, I challenge it into it. There's no such thing as too much, especially when I'm working with Natasha whom I happen to love in life. Only need to look at her and if it's very deep, I just give it to her, that's what I'm here to do. Actually the best fun of all, really stripping yourself down giving 100% to her or anyone.
Is Red a defining character in your career?
KM – Absolutely, I am one of those odd frogs leaping from decade to decade into one unique role to another with strange sinews in between. From Mary Ryan (Ryan's Hope) then Mrs Columbo, plus Captain Janeway (Star Trek) to Red, defining gorgeous opportunities there right Shane. But with Red, an opportunity to redefine myself acting going into middle-aged character playing with a kind of happiness, great energy with confidence because over six years, she's been a wonderful unforgettable character journey. But I said that about Captain Janeway as well (laughs), been so lucky.
Have you got ambitions to direct or write film or TV?
KM – I write books, completing my second recently. No interest in directing, none. I would end up just screaming 'Do it this way' at the poor actors (laughs). Don't have patience or spacial sense while on television you don't have much freedom.
Is your second book another memoir?
KM – Yes, all about the lives and effects of my parents. Far deeper, complex and more felt than the first. Now in the hands of the editor, out in 2019.
It's a time of change in Hollywood at the moment, a great thing. Have you got anything you'd like to say about the #MeeToo movement or affiliated issues?
KM – Of course I could talk forever about it couldn't I Shane? It's quite interesting watching women coming forward. I would however say this, I have never once in the entirety of my career been victimised by a man. I have never thought that any man would try to, it never occured to me therefore it never happened. They didn't fool with me, I didn't fool with them. You have to lay down a law of your own in your own mind right Shane. If you met me when I was 22, you'd say: 'She's pretty but I'm not going there because this girl would kick me where the sun don't shine'. You know what I mean? I wouldn't tolerate that, I grew up to be equal to men alongside my brothers, I never felt any different. Of course I'm happy these women are coming forward if they feel this will affect a great change. Tell you what I want, equal pay with equal respect as a craftsperson, but very much want to retain my femininity as a woman who's proudly given birth to three children.
You worked with legend Richard Burton (Lovespell) 1981, must have been a fantastic experience?
KM – Loved him, so kind to me. You see that's exactly what I'm talking about, just a generous lovely man. Put me on his knee and sang, 'How to Handle a Woman', acapella for my 20th birthday. Now if it was #MeToo, I'd have to abscond from his knee or slap him in the face, then would have missed the greatest thing in my life. Instead I had his honest kindness with lunkular goodness towards me at all times, I had a lot of luck that way. Men have always been nice to me.
Loved you in uniform in Remo (1985), an underrated film and you were the only female in a practically all male cast.
KM – Thank you, that was a lot of fun down in Mexico Shane (laughs). I was, and there's nothing wrong with that (laughs).
Season Six of Orange Is The New Black: Now streaming on Netflix. 
Shane A. Bassett
Sydney Unleashed is one of Australia's premier entertainment publications exploring the latest in lifestyle trends. From Sydney's finest restaurants, cafes and bars to the hottest in gadgets, products, and home entertainment, Sydney Unleashed is your one-stop lifestyle platform.