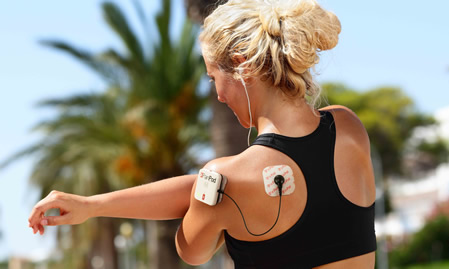 PainPod: Physiotherapy in your pocket
Some people are impossible to buy gifts for – particularly parents or relatives who seem to already have everything. Introducing a gift that will be very welcome by 'hard to buy for' people.
Australian born health tech company PainPod offers a range of drug-free, portable, physical therapy products that can moderate and manage pain levels, accelerate recovery and increase performance. A great Christmas present, the device is suitable for all ages, helping its users handle everything from a sore back and neck pain to arthritis and migraines.
The new generation device PainPod Mi is the world's only natural recovery and pain relief technology available in one ultra-wearable unit. Unlike a transcutaneous electrical stimulation device (TENS), the Mi device can mimic the body's natural electrical microcurrent system. It helps cells to regenerate and repair, reduces inflammation and assists in pain relief, rather than working as a pain blocker. With long-term use the Mi device has assisted a multitude of chronic pain sufferers in overcoming pain ailments.
The PainPod 3 is a leading device and works by delivering gentle bio-electrical nerve stimulation pulses through the skin to the nerve endings in the affected area, blocking the pain signals from travelling to the brain. A 3-in-1 device, the PainPod 3 can block pain, accelerate recovery and increase performance levels through its 12 scientifically developed therapy modes. Offering everything from acupuncture to cupping, the device makes the perfect gift for the chronic pain sufferer, expectant mother or athlete in your life.
With a range of technologies that fit in the palm of your hand, the products act as 'physiotherapy in your pocket' and can seamlessly fit into anyone's lifestyle. A favourite amongst Australian athletes, such as Australian Volleyball Olympian Christie Mokotupu, Rugby League Legend Graham Eadie and the Collingwood AFL Club, the PainPod device range offers a 100% natural, drug-free solution. Used during exercise, the physical therapy technology can recruit more muscle fibres at up to 40% stronger contractions than regular resistance training methods.
"PainPod has reviewed thousands of studies to develop our specific formulations. Our bioengineers and research teams are continually adapting to the latest technology so we can ensure the whole family can enjoy a non-invasive, drug-free system of pain relief and recovery," says Rick Rowan, CEO of PainPod.
PainPod is highly regarded and used by leading doctors, physiotherapists, chiropractors and sport scientists around the globe. It is approved on the register of Therapeutic Goods Australia and FDA listed. PainPod is growing exponentially as users in Australia, USA, the UK and now Europe are embracing the proprietary technology application.
PainPod Mi (RRP $99) and PainPod 3 (RRP $479) can be purchased at leading pharmacies, from physiotherapists and chiropractors, and online.
Sydney Unleashed is one of Australia's premier entertainment publications exploring the latest in lifestyle trends. From Sydney's finest restaurants, cafes and bars to the hottest in gadgets, products, and home entertainment, Sydney Unleashed is your one-stop lifestyle platform.