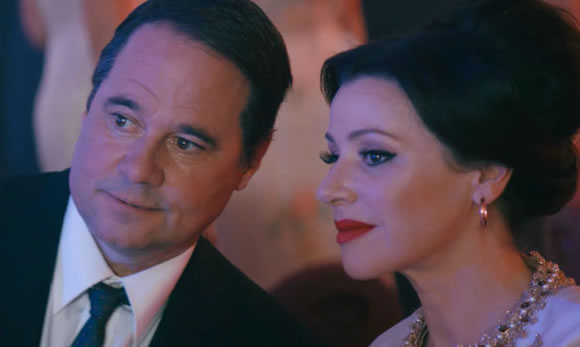 PROMISED: Paul Mercurio Interview
Paul Joseph Mercurio set the world alight with sequins and pirouettes in 1992's Strictly Ballroom – a long in-development, almost unfinanced, project which became an international sensation. Speaking with Paul, now regularly seen as a fanciful television chef, he still likes to think he's a working actor, although only appearing in projects sporadically. I found him to be a top bloke, happy to discuss interesting stories on a variety of his 'unusual' back catalogue.
Hoping more opportunities come to hand, after a recent stint on Neighbours, he plays a member of a large Italian family in Promised battling traditions of an arranged marriage in the 1970s. Alongside him are accomplished singer, Tina Arena, and wonderful rising star, Antoniette Iesue, among others. Paul tells me people who approach him usually only ask about Strictly Ballroom or religious epic, Joseph. Not so much sex romp Exit to Eden or my favourite, Back of Beyond. And while learning correct Italian was limited for Promised, his passion for acting was not. And the role as Sal will hopefully open new doors for roles.
You've done few acting projects in recent times, what got you on board for 'PROMISED'?
PM – People ask me this often but what got me involved was…I was offered the job. I love the process however, once producers see you on a cooking show they assume you've given up acting.
Was it an audition to land the role?
PM – Normally yes. In fact, I have been auditioning for Neighbours over a long period and only got it this year. Promised director Nick Conidi called my agent so went from there as I have a feeling it came down to a last minute choice, gratefully I grabbed it.
Chemistry with Tina Arena and Antoniette Iesue (playing wife and daughter) is terrific.
PM – Luckily we all got on across a really happy set. Antoniette has good energy, a fairly new actor that has huge talent so I just turned up matching creativity. With Tina, I have known her over a long time just to say hello, so working alongside her we simply clicked.
Arranged marriage is the premise of Promised, was that difficult to act around?
PM – As a parent to daughters, I couldn't imagine it ever. Although based around actual events, it's certainly an eye-opener and I have seen documentaries on the subject from around the world. I was unaware the parents of Tina (Arena) were an arranged marriage. Her father was cutting cane in Queensland while his wife-to-be was on the phone back in Sicily, they got married by proxy. These are the things I didn't really know were common.
Did you assist with delicacies of craft services on set?
PM – No need to, I either brought my own glorious lunches that were often admired by others or devoured their amazing corned-beef, somehow they got it to be very tender.
How did Strictly Ballroom (1992) change your life?
PM – It's interesting because if it had a been a couple of years earlier or couple of years afterwards, it may not have worked. It became lightning in a bottle. Baz Lurhmann found it difficult to get funding, nobody wanted to make a ballroom dancing movie as it was known. It came out at a time when people were inspired by the underdog. I loved the fact people saw it and inspired them. As a young dancer, I'd often get beaten up. The movie holds up making people dance out of their comfort zones to this day.
You have never worked with Baz again, or a reunion with Tara Morice.
PM – Well Baz has never asked me to audition on any project. People still ask why wasn't there a sequel, he never wanted to I believe, but it was something I wondered about. I always joked Scott and Fran opened a fish and chip shop. Tara and I had chemistry, the film had strength and could've worked as a TV series, even now.
Back of Beyond (1995): an early post-Strictly Ballroom memory of mine, I own a VHS copy.
PM – The script never got to be where it should have been before filming. Our director told me he wanted to make the best visual film ever, he kind of did, cinematography holds up especially as certain scenes took something like five hours to be set up and lit. Disappointing as all of us who put everything we had into making it but just disappeared.
The First 9 1/2 Weeks (1998): you worked alongside legend Malcolm McDowell.
PM – Working with Malcolm was really exciting however he was disruptive on set. His attitude I was surprised at, a bit difficult in certain ways more off set than on set actually. If you were acting in a scene, he was mucking up off camera which became disturbing. I'd never come across that before, an interesting experience to deal with knowing his status.
Please don't tell me Sir Ben Kingsley was like that on Emmy winner, Joseph (1995)?
PM  – (laughs) No I really got to know him drinking together on Friday nights, finding dance parties together, and flew back to London together. He's a lovely man, working alongside him was the first time I felt confidence of a real actor. Joseph,was an epic shooting schedule, the process and feeling on set was extraordinary. That remains as a favourite.
Exit to Eden (1994): a notorious cult flop was only your second film.
PM – Yes I was inexperienced when receiving the script but thought straight away, this is terrible. Producers flew me over to LA, went to casting audition with Dana Delany, then to lunch offering me the film. What was I to do! The thing is, director Garry Marshall had recently done Pretty Woman, people continued telling me not to worry about the script because Pretty Woman was a terrible script that Garry magically brought to fruition. Appreciating the effort of what Garry was trying to do with Exit to Eden, bringing to light a world that participates in sexual games or way of living based on a book by controversial author, Anne Rice. One-liners from Rosie O'Donnell all worked, it's what she does best. I hope people are still buying it as I get a bonus when it makes a certain amount of money.
Dark Planet (1997) was directed by the 'Purple Rain' auteur Albert Magnoli. Did Prince visit set?
PM – Not that I was aware of, I don't have a vivid memory of that film. Also didn't have much to do with co-star Michael York, it was great to see him, although he seemed so nervous.
All your international productions, I noticed the Australian accent remained.
PM – Accent's not my thing, I trained as a dancer which took priority. Getting the American accent right was not a natural thing for me, even now.
Why should audiences go check out Promised?
PM – It's a beautiful tale, no car chases or explosions, families can enjoy it together, you may learn a few things about Italian Australian history, it was a pleasure to be part of.
PROMISED: 93 min, Rated PG.
Now Showing in select cinemas. 
Shane A. Bassett
Sydney Unleashed is one of Australia's premier entertainment publications exploring the latest in lifestyle trends. From Sydney's finest restaurants, cafes and bars to the hottest in gadgets, products, and home entertainment, Sydney Unleashed is your one-stop lifestyle platform.