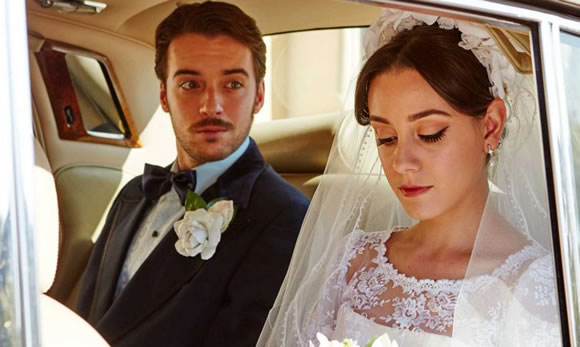 Antoniette Iesue Interview
The next generation of Australian screen talent is strong with one such standout. The exotic, talented, glowing Antoniette Iesue who dynamically makes an irresistible impact as romantic lead in the low key, Promised. Based on actual events, we journey through time from 1950s into 1970s following generations of an Italian family and traditions of an arranged marriage. Funny, dramatic, eye opening, this breezy film is well worth a look. Antoniette has the edge, her presence makes the movie. I had a conversation with her about her role as Angela, why she took up acting, close experiences with 'MeToo' issues and more.
For a first feature film as a lead, you're extremely impressive and natural.
AI – Thank you Shane, was a huge task I'm proud of. After having chemistry reads between colleague Daniel Berini (as Robert) and I, was basically told on the spot I was in the mix. Then confirmed later that afternoon, very happy it all worked out.
Was acting always going to be a career?
AI – It wasn't at the beginning, although I enjoyed movies and inspired by Emily Blunt, Angelina Jolie's action roles and really loved Anne Hathaway in her Catwoman (Dark Knight Rises) and Love & Other Drugs phase. All wonderful women I love. Auditioning for school plays with my sister sparked the interest and applied for WAAPA to study acting then got in, so glad I did. I grew up in Melbourne, moved to Sydney, studied in Perth.
Angela in Promised is a writer. Would you consider writing a screenplay or book?
AI – If I sat down to try, I could. I actually love reading more than writing. Angela's passion stems from childhood, she's brilliant on a typewriter (laughs), that is hard to master.
Was it hard to speak Italian or are you fluent?
AI – Not fluent but grown up in a large Italian family, it was easy to wrap myself around it.
Arranged marriage is the main Promised plot point. What was your opinion on that?
AI – When first tackling the script, I was a little shocked. Even though I'm Italian, it was never discussed growing up. The more I delved into that era, I realised they did it often to help their community. I think if you moved to a country that speaks a different language, alone without support, families set up marriages like that for a sense of security. Whether they worked or not is a different story. Arranged marriage is a huge topic umbrella, I believe the 1950s era of Italians only had significantly good intentions to help their children in a country they couldn't quite understand properly yet. I can only speak for Italians, being one, and history has changed.
What did you learn acting opposite legends Paul Mercurio & Tina Arena?
AI – Paul brought onto the set professionalism, he's done this 'forever'. His calmness, coolness, patience I certainly picked up on. With Tina in her film debut, she reminded me what it was like on my first set, the energy or interest in wanting to learn and expand ideas. It was awesome, two icons by my side showing me totally different things.
*Spoiler alert: Does Angela end up with the right guy?
AI – There were discussions of what if, or what about, between actors but no. I think at the end of the day, Robert and Angela were always going to end up with each other having been so close since childhood, I do see the love there.
Those clothes were very detailed retro, have you continued the style?
AI – I'm a little retro myself owning more than one pair of flared jeans (laughs), as well as numerous floral loose old school shirts. It was fun to put on Angela's more conservative clothes allowing me to completely become her.
'MeToo' rightfully prominent in the industry now, have you ever had any untoward issues?
AI – Definitely have, but as extreme as I know a lot of women have experienced, I've been really lucky when anything had come up. Thankfully the right support helped to guide me and get rid of them.
First 'favourite' things that comes to mind?
Food – Pasta
Holiday destination – Paris
Music to Dance to – Bangs, Nordic Party House & Travis Scott
Music to Chill to – Bangs, Joni Mitchell, Carole King
Movie – Mrs Doubtfire (for sure!), American History X
Do you think you could play a reverse Mrs Doubtfire, in an update?
AI – Oh my god, would absolutely love to. Yes Shane, sign me up!
Why should Australian audiences see Promised?
AI – Sheds light on a culture incredibly prevalent to the Australian community. Italian/Australian heritage have done a lot and the film is a really nice celebration of culture. Support it, our film industry is a great thing sometimes overlooked at box office.
PROMISED: Rated PG, 97 min.
Now showing in select cinemas.
Shane A. Bassett
Sydney Unleashed is one of Australia's premier entertainment publications exploring the latest in lifestyle trends. From Sydney's finest restaurants, cafes and bars to the hottest in gadgets, products, and home entertainment, Sydney Unleashed is your one-stop lifestyle platform.