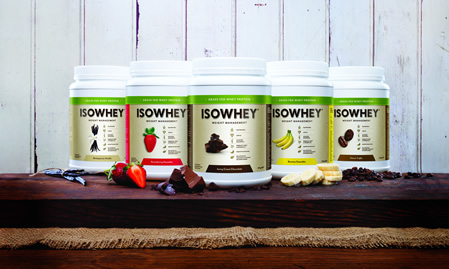 Protein: The Essential Nutrient
By IsoWhey Dietitian Belinda Reynolds.
Protein provides amino acids which are the building blocks of muscle, plus are essential for a plethora of reactions in your body. They are important for liver function, thyroid function, neurotransmitter function (mood health and memory) and to support healthy metabolism. For this reason, protein is essential for everyone, including those embarking on a healthy weight loss plan.
Protein is good for satiety, as not only is it digested more slowly than simple carbohydrates, but whey protein, for example, has been shown to exert beneficial effects on the release of specific appetite and metabolic hormones and chemical messengers.
Through its benefit for muscle maintenance, recovery and growth, proteins such as whey protein support metabolism. A greater proportion of lean muscle mass on your body means that you burn more energy during day-to-day activities than you would if you had less muscle. It also makes you feel stronger and is better for healthy ageing.
Protein can be introduced into the diet in the form of healthy cuts of meat, poultry, fish, eggs, nuts and seeds, yogurt, also certain whole grains such as quinoa. Protein supplements can also come in handy when you are at work or on the go.
Sydney Unleashed is one of Australia's premier entertainment publications exploring the latest in lifestyle trends. From Sydney's finest restaurants, cafes and bars to the hottest in gadgets, products, and home entertainment, Sydney Unleashed is your one-stop lifestyle platform.