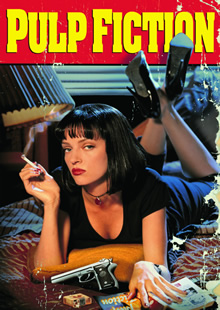 Pulp Fiction 21st Anniversary
Starring: John Travolta, Bruce Willis, Samuel L. Jackson, Rosanna Arquette, Uma Thurman, Harvey Keitel, Christopher Walken, Maria de Mederios, Tim Roth (Rated R – 154 min).
Hard to believe it's been 21 years since director Quentin Tarantino unleashed his opus finding humour in otherwise dark situations evolving around four interweaving stories with multiple overlapping characters amongst radical, inconsistent timelines.
A boxer is supposed to throw a fight but doesn't, two hitmen experience divine intervention. Over coffee, a pair of thieves in love decide to rob fellow diner patrons and a gangster's wife needs an adrenaline shot to revive her after dinner. Addressing excessive violence, certainly not for the squeamish, these are relevant to volatile plot points which rarely cease to shock.
Music plays an important part, the chart busting soundtrack contains an array of handpicked, unforgettable musical interludes with one of the best being when Mrs Mia Wallace (Uma Thurman) and Vincent Vega (John Travolta) hit the dance floor of theme restaurant Jack Rabbit Slims. While watching this myself back in 1994, I witnessed a parade of people rushing out of the cinema and not returning, the film distressed many, causing classification turmoil and debate.
Unlikely best picture Cannes Palm D'or winner and Oscar recipient for best screenplay, Pulp Fiction remains timeless. Eclectic pop culture driven dialogue alone contains quotes repeated by university students to film scholars the world over and if parody is a compliment, seek out satire film Plump Fiction for proof of that.
Shot in glorious cinemascope, the look and feel for this brilliant experience stands the test of time. Even small characters are of high importance, nobody in the cast is insignificant, my favourite Angela Jones as getaway taxi driver Esmarelda Villalobos.
At the helm of only his second film after blasting onto the independent scene with Reservoir Dogs (1992), Quentin Tarantino became an applauded filmmaker two years later with Pulp Fiction setting up a selective career never failing to impress in a variety of genres including war, westerns, martial arts and even a feature homage to the 1970s action car chase flicks. Due for release early next year, Hateful Eight, an ensemble western in one place over one night.
Shane A. Bassett
Sydney Unleashed is one of Australia's premier entertainment publications exploring the latest in lifestyle trends. From Sydney's finest restaurants, cafes and bars to the hottest in gadgets, products, and home entertainment, Sydney Unleashed is your one-stop lifestyle platform.