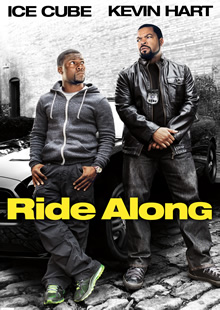 Starring: Kevin Hart, Ice Cube, Laurence Fishburne, Tika Sumpter, Bruce McGill, John Leguizamo (Rated M – 99 min).
Motormouth actor Kevin Hart may not yet be a household name or certified movie star but after his performance in this very funny buddy cop comedy, his stardom can only rise.
A movie that remains in my all time top ten since first experiencing the phenomena upon release in 1984 ('Beverly Hills Cop') kept coming to mind while watching Ride Along. Vertically challenged Hart plays Ben Barber, a high school security officer and promising police cadet who longs to be on the beat. He is also a seriously obsessed multi player video gamer who has become a legend online known as alias, Black-Hammer. Ben feels it's time to get married and asks her brother for approval, however this does not go smoothly as expected.
The brother James, played to perfection by Ice Cube is a rough, rouge, no-nonsense cop who decides that in order for Ben to prove himself as man enough for his sister, he should ride along for a day of police duties. A certain ongoing investigation involving an unseen crime boss is the key to the day's activities, and then in extraordinary circumstances it is Ben who finds informative clues leading to a possible arrest. Crazy situations keep happening out of nothing while Ben and his hyperactive over enthusiasm unsettles the 'real' cops around him.
Apparently a '126' call is something no officer wants to respond to, so James makes sure he takes Ben to them all including an incident at a farmers market with an elderly man and honey.  I'll leave it at that. Ice Cube can act, 'Boyz in the Hood' was a seriously impressive performance and one of the great films of 1991, his comic timing is impeccable here. Veteran Matrix monarch Laurence Fishburne is a decent snarling villain with limited scenes. Not quite in the Eddie Murphy stratosphere but already a successful arena stand-up comedian, rip roaring Kevin Hart was a bit-part actor in a variety of films including Little Fockers, he is now destined to be huge after this, trust me.
Not a comedy classic by any means, Ride Along has enough hilarious segments to be better than average entertainment.
Shane A. Bassett
Sydney Unleashed is one of Australia's premier entertainment publications exploring the latest in lifestyle trends. From Sydney's finest restaurants, cafes and bars to the hottest in gadgets, products, and home entertainment, Sydney Unleashed is your one-stop lifestyle platform.