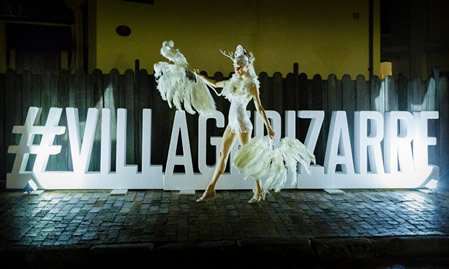 The Rocks Village Bizarre
The Rocks Village Bizarre pulls back the curtain on 2015's tantalising program set to transform the historic precinct into a vaudevillian world of mystery, magic, music, and markets each Friday evening until 18 December.
Presented by Sydney Harbour Foreshore Authority (SHFA), The Rocks Village Bizarre invites you to 're-experience' The Rocks Precinct for a truly mind bending six weeks of immersive performances, culinary delights, two-storey high floating installations, and chance encounters with captivating characters around every corner.
Transforming The Rocks Square into a world of entertainment is Vaudevillia presented by Slide. Held at an outdoor lounge bar, this modern reinvention of the variety show has a plethora of talented performances including a three-piece band, crazy circus performances and physical comedy. The Rocks Brewing Company will also be supplying craft beers, ciders and cocktails at the outdoor Lounge Bar so people stay refreshed throughout the night.
A range of site specific installations around The Rocks is bound to surprise and inspire visitors. Airborne sees four puppeteers in spotless pressurised suits bringing a giant inflatable creature to life. Watch as a two storey tall giant floats above the street, dances in the harbor breeze and meanders gracefully through the laneways. The Rocks Village Bizarre will host a playground of art, installations and creative collaborations. Beware of the Sepia Jezebels lurking in the shadows of the cobblestone streets with their wiley ways and tricky devices.
Representing the next generation of designers, UTS design students will showcase their most cutting edge projects, from installations to interactive objects in UTS Plastination. Fashion forward visitors could become a subject in The Bizarre if their unique look catches the eye of talented painters and artists from Australia's oldest art school, Julian Ashton Art School.
Two seemingly old fashioned lamp posts will enlighten visitors with their playful opinions on everything from fashion, relationships and children in The Talking Lamposts. Professor Mac the Snake Oil Merchant will also be using his gift of the gab to convince his 'patients' that he has all the solutions to their medical woes.
The Village Bizarre Night Markets will tempt shoppers with a huge selection of treasures including quirky and original Christmas gifts.
Taste buds will be buzzing as foodies meander through aromatic alleys of sizzling stalls, and the many intimate dining spots of The Rocks will ensure that there are plenty of toothsome morsels to choose from.
Window-shopping takes a theatrical turn when selected shopfronts become stages for a dynamic range of local and international performers including dance artists Cloé Fournier, Henrietta Baird, and Melanie Palomares and theatre artists Miss Ladyko and Jackson Davies in Through The Windows.
Find out what's behind the picture frame at Bohemia – is it a boudoir, a music box, or a harem room? A trip to Cabaret Sasquatch will see visitors in a dream-like landscape where a troupe of provocateurs will be bringing art forms of a bygone era to life and playing junkyard instruments. For those wanting to shake their weekday stresses off, No Lights No Lycra is a dance party held in complete darkness with no light, no lycra, no teacher, no steps to learn, just free movement.
Glamourous makeovers are on offer at Glitta Supernova's Parlour Bizarre, and costumes can be found at Kamikaze Couture. Visitors wanting a total transformation can take on a whole new personality at Take A Shot.
Creative minds can meet at The Rocks Pop Up and take a trip back to the future. Meet vanished hero Sir Charles Kingsford Smith in We Are the Ghosts of the Future by 7-On, or learn the ancient art of Shoulder Dancing with experts passing down the best moves in a playful workshop.
Every laneway of The Rocks will unveil a new performance, a new adventure and a new experience. A myriad of mysteries in the Vaudevillian world at The Rocks Village Bizarre await every Friday night until 18 December.
WHAT: The Rocks Village Bizarre
WHERE: The Rocks
WHEN: Friday nights until 18 December (6:30pm – 10pm)
PRICE: Free
2015 OPENING NIGHT IMAGES:
Sydney Unleashed is one of Australia's premier entertainment publications exploring the latest in lifestyle trends. From Sydney's finest restaurants, cafes and bars to the hottest in gadgets, products, and home entertainment, Sydney Unleashed is your one-stop lifestyle platform.