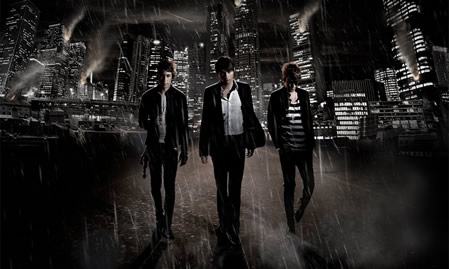 Short Stack: This Is Bat Country
When you have the skill and ambition Short Stack roll with, there's only one way to follow up a debut as successful as 2009's Stack Is The New Black – you have to go bigger, better and 100 per cent ballsier.
This Is Bat Country is everything you know about Short Stack – the pop hooks, the rock attitude, the cheeky exuberance – and so much more. Prepare to have your expectations blown, because these sounds have been pumped up to IMAX proportions, then spiked with a kaleidoscope of cool ideas and a hurricane of confidence.
"This Is Bat Country is so ambitious for so many reasons," explains Short Stack singer, guitarist and main songwriter Shaun Diviney. "We wanted to push ourselves, and this time we had the opportunity to do things we wouldn't have been able to before."
With Stack Is The New Black debuting at number one on the ARIA charts on its way to securing gold record status, the boys from Budgewoi, NSW – Shaun, Andy Clemmensen (bass) and Bradie Webb (drums) – knew they had to back up if they wanted to keep their rabidly dedicated fans satisfied, while putting all the haters in their place. "There was definitely a lot of pressure because the last album did so well," says Shaun. "So we decided to take a risk. We not only wanted This Is Bat Country to be as good as Stack Is The New Black, but eclipse it."
Shaun cramped himself into his bedroom for three months immediately after recording the debut and mapped out a spider's web of ideas, then presented them to producers Trevor Steel and Lee Groves, who between them boast credits as diverse as Sting, Kasey Chambers, Goldfrapp and Marilyn Manson.
As Shaun says, "We sifted through them and worked out which were shit and which were the goods." The end result is set to slap the music industry in the face. With layered harmonies and orchestral strings, electronic knick-knackery and sweeping sonic landscapes, all combined with the band's inherent knack for knowing exactly where a hook needs to land, This Is Bat Country will launch Short Stack as serious contenders.
"This record has some of the softest songs we've ever had, as well as some of the hardest," says Shaun. "And that's particularly hard! "The first album I wrote when I was 17," he adds. "Now I'm 21. So it was a growing process – just discovering different influences musically. I sort of went backwards to go forward. We're doing things we've never done before – we really tested ourselves musically. There are heaps of layered vocal harmonies on this album – it's kind of like Queen, man! And we've got guitar solos! We never really did that before. It's all part of us – here's a cliché – 'growing up'.
"With Stack Is The New Black, I was in high school so it was mainly about girls and stuff. That's still relevant on this album, but it feels like in Australia there aren't many artists that are very positive – they all seem a bit down in the dumps. So I felt I should write an album with a bit of a social conscience. "I just wanted to say it doesn't matter where you come from. We're from a little town and we've accumulated this success, but when we were growing up people were like, 'You'll never amount to anything.' Now that we have, there's a responsibility to tell kids they can do anything they want."
And what about that album title? "It's a reference to Fear And Loathing In Las Vegas, the book by Hunter S Thompson. At the beginning, they're like, "We can't stop here – this is Bat Country" and it's the introduction to all the chaos and everything being all fucked up, so I thought that would be kind of cool. It's like self-inflicted anarchy." A very fitting title for a very awesome album.
'This Is Bat Country' is available now.
Sydney Unleashed is one of Australia's premier entertainment publications exploring the latest in lifestyle trends. From Sydney's finest restaurants, cafes and bars to the hottest in gadgets, products, and home entertainment, Sydney Unleashed is your one-stop lifestyle platform.