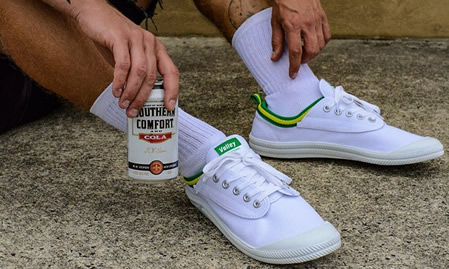 Southern Comfort & Volley Collaboration
Southern Comfort have teamed up with lifestyle shoe brand, Volley, so Aussies can slip into Autumn sipping a Southern Comfort & Cola and sporting some fresh kicks. It's so simple: purchase a limited edition 10 pack of Southern Comfort & Cola 375ml cans and receive a bonus pair of Volley International Canvas shoes (RRP: $42.99).
The legendary kicks come in a classic white on white colourway or the iconic green and gold two-tone Volley. Hailing from New Orleans, where music fills the air and fashion is in the front seat, Southern Comfort's soulful and authentic brand is partnering with the iconic shoe brand and allowing consumers to literally walk the talk, bringing the unmistakable, smooth-drinking flavour of Southern Comfort to the streets of Australia.
Southern Comfort's Senior Brand Manager, Emma Fogarty explains, "Southern Comfort & Cola cans are already a crowd favourite at Aussie gatherings thanks to the approachable and easy-drinking taste. Heading out of Summer, we wanted to give Aussies the chance to slip into some new kicks and enjoy a couple of drinks with some mates. Volley are the perfect partner for our brand, with their retro-cool factor and instantly recognisable designs."
Volley Marketing Manager, Samuel Despotidis continues, "Like Southern Comfort, Volley has gone through somewhat of a reinvention in the last few years injecting a new look and feel, new styles and a refreshed online presence boosted by some famous supporters propelling Volley back in to the spotlight. While there has been change, the iconic brand continues to be engrained in Australia's very DNA. Volley is more than a shoe, it's a part of Australian folklore, much like Southern Comfort is rooted in New Orleans."
Up until the 1st of June 2019, consumers will be able to claim up to 30,000 pairs of Volley International Canvas shoes simply by picking up a 10 pack of Southern Comfort & Cola at any participating independent retailer, entering the unique code online at www.volley.com.au/southerncomfort and selecting the desired colour and shoe size (Claimants must pay $9.95 including GST postage and handling payment for delivery of the gift).
Consumers can share their Southern Comfort & Cola and new Volleys by tagging @southerncomfortau and @volleyaustralia #southernxvolleys.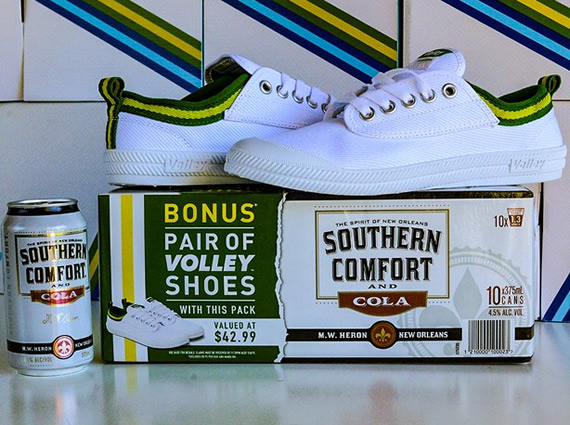 Specially marked 10 x 375mL can packs of Southern Comfort Original & Cola 4.5% ABV. Available at participating independent retailers (RRP $39).
Sydney Unleashed is one of Australia's premier entertainment publications exploring the latest in lifestyle trends. From Sydney's finest restaurants, cafes and bars to the hottest in gadgets, products, and home entertainment, Sydney Unleashed is your one-stop lifestyle platform.