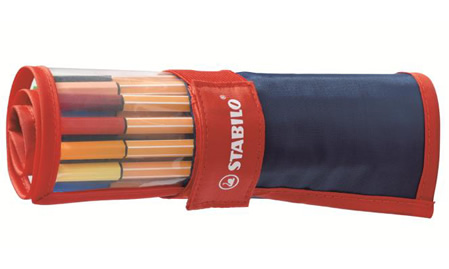 Writing instrument expert STABILO is famed for its classic and cultured-looking range, one that's become a firm favourite in pencil cases around the globe. Produced in a seemingly endless array of different colours, STABILO pens don't just ignite our imagination, they also facilitate learning and memory.
Colour, proven to stimulate the brain and capture attention, makes it easier to encode and recall information. Colour's role in memory retention isn't confined to high school or university students. Whether presenting to an audience, brainstorming for ideas, visualising a mind map, conveying recommendations or establishing a brand identity, colour acts as an effective memory tool.
Notetaking practices such as mind mapping – a diagramming technique using keywords, branches and colour – help us make connections between ideas and see a bigger picture that we might otherwise miss. Colour acts as a memory hook.
Most students use one pen, one colour when constructing their notes. (This is true for both laptop, pen and paper notes.) No page is visually different or distinct from another. That's a problem for memory. Researcher Hedwig Von Restorff discovered that we better remember information that is salient, novel (new), surprising or distinctive. This effect is now known as the Von Restorff Effect.
Some instructors at the Royal Australian Air Force School of Postgraduate Studies advocated using colour in note-taking as an aid to memory.
How can we make each page of our notes distinctive?
Best-selling study skills author and former teacher, Nina Sunday, encourages abandoning the laptop when making study notes and instead go pen and paper using a variety of coloured pens. 'Change pen colour for each new topic. Your notes become colour-coded to help you visually separate and recall the details of one topic from another,' says Sunday.
With its distinct hexagonal striped design, the STABILO Point 88 pen is the best-selling pen in the STABILO range and perfect for focusing on fine lines, doodling or writing. Featuring a .04mm fine tip – which makes it easier to write and read – a durable metal-encased tip, a fast ink dry time and a high cap-off time that means it won't dry out easily. With 25 different colours to choose from, STABILO offer a wide range of writing instruments for anyone who wants to draw or learn, with professional artists, discerning colour enthusiasts and keen students among their many fans.
STABILO Point 88 is available in single form and packs of 3 ($5), 6 ($10), 10 ($16), 15 ($19) and 25 ($30) and are sold in Woolworths, Officeworks, Eckersley's and other leading art suppliers.
Sydney Unleashed is one of Australia's premier entertainment publications exploring the latest in lifestyle trends. From Sydney's finest restaurants, cafes and bars to the hottest in gadgets, products, and home entertainment, Sydney Unleashed is your one-stop lifestyle platform.