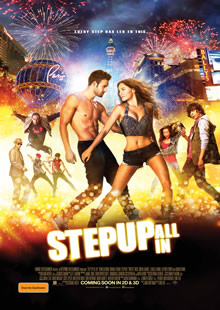 Starring: Ryan Guzman, Briana Evigan, Izabella Miko, Alyson Stoner, Elizabeth Weinstein (Rated PG – 112 min).
The longevity of this dance saga astounds me no end that film-makers can keep things ultimately refreshing but still keep the same entertaining formula going for a fifth instalment successfully. That's right, this is actually Step Up 5; disguised in the title as, All In. It's also marvellous fun.
Last time around, we saw the Flash Mob of Miami go to the 'bright lights big city' of LA to try their luck at fame and fortune. The current story picks up with the disillusioned dance crew not happy as their hopes and performing dreams are simply not eventuating. Unofficial leader of the gang, Sean wants to stick it out and stay, but the rest of the Mob want out returning to Miami upset about their captain staying behind.
In an excuse to get many of the previous Step Up cast together again, Sean rings around forming a new troupe to accompany him to Vegas in order to enter a televised dance-off called The Vortex at world famous Caesars Palace. The stage is similar to a boxing ring with the best crew strutting it out all trying to out-pop each other.
Fans of the series will enjoy seeing many familiar faces from the earlier movies except for Channing Tatum who appeared in the 2006 hip-hop inspired original. Sorry ladies, however Magic Mike 2 is due next year. Harmless romance also blossoms; the story really is kids stuff, but the spectacular choreography more than make up for plot shortcomings. Going beyond crazy legs, not only can these supersonic dancers move, various sequences involve flaming batten twirlers, ice showers and sand as props to enhance the dazzling routines. The epic showdown is not only thrilling but feel-good and momentous; you cannot but help but be happy during a Step Up movie.
True talent Alyson Stoner as Camille is sadly underused. My favourite Coyote Ugly bar dancing show-girl Izabella Miko reminded me why I cherished her so much in that epic guilty pleasure, she plays unforgettable host of the Vortex, Miss Alexxa Brava. Commanding attention during minimum screen time, hardly wearing a variety of the most seductively outrageous costumes, Miko reigns and is worth the price of admission alone.
Shane A Basset
Sydney Unleashed is one of Australia's premier entertainment publications exploring the latest in lifestyle trends. From Sydney's finest restaurants, cafes and bars to the hottest in gadgets, products, and home entertainment, Sydney Unleashed is your one-stop lifestyle platform.