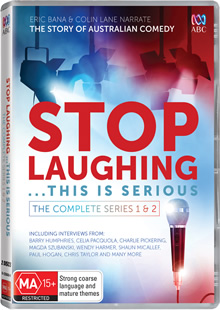 Stop Laughing…This Is Serious
Chart a course through the story of Australian comedy, with the complete collection of STOP LAUGHING…THIS IS SERIOUS.
Narrated by Eric Bana and Colin Lane, this six-part documentary, over two series, features more than 100 interviews with the men and women who make us laugh, including Barry Humphries, Celia Pacquola, Charlie Pickering, Magda Szubanski, Wendy Harmer, Shaun Micallef, Paul Hogan, Chris Taylor and many more.
Through intimate conversations, classic archival footage, and a detailed retelling of Australian social history, see how our beloved jokesters from stand-up, radio, television, theatre and film to the new viral media sensations of today all understand one sacred truth – that every Australian's greatest gift is the ability to laugh at ourselves.
Series 1 explores the development of Australian comedy through social and political change, examining the way humour has reflected and responded to multicultural Australia, gender issues, and politics. The first series resonated strongly with Australian audiences, achieving +1 million consolidated ratings. Episodes include:
– LOOK AT MOI, LOOK AT MOI: Look inwards at the importance of our ability to laugh at ourselves and how this has become a quintessential Australian trait. We realize that what's right under our very own nose is often the funniest thing of all!
– FAARK, FAARK: Delve into the comedy of rebellion and anti-authority, from the comedy of the underdog to the fertile comedy breeding grounds of the university revues and how they spawned many of our favourite comedy shows.
– HELLO POSSUMS: Examine the transfer of comedic ideas between our nation and the rest of the world how Australian comedy has established itself on the world stage. And the new ways comedy can find an audience with so many talented performers publishing their own comedy online.
Series 2 delves deeper into the defining moments of Australian comedy and how they shaped our comedic voice. This series also examines women in comedy and the eclectic genre of variety. Episodes include:
– SHE GOES…SHE GOES…SHE GOES: Examine the origins and inspirations behind Australia's most memorable characters and the creative process that produced these comic icons who resonated with audiences so strongly.
– I SAID PET, I SAID PET, I SAID LOVE: Look at the fearless funny ladies of Australian comedy, and their exciting journey to front and centre of Australian entertainment. Thanks to an increasingly open society our funny gals eventually made themselves heard as a comic force to be reckoned with.
– TOO MUCH VARIETY IS BARELY ENOUGH: Performers like Graham Kennedy, Bert Newton and Norman Gunston dominated variety TV, serving up a mix of comedy, live sketches and music. We chart the cultural juggernaut that was Hey Hey It's Saturday and reveal some of today's stars who got their start on the uniquely Australian phenomenon that was Red Faces.
AS SEEN ON ABC TV.
Stop Laughing…This Is Serious: The Complete Series 1 & 2 is available now.
Sydney Unleashed is one of Australia's premier entertainment publications exploring the latest in lifestyle trends. From Sydney's finest restaurants, cafes and bars to the hottest in gadgets, products, and home entertainment, Sydney Unleashed is your one-stop lifestyle platform.