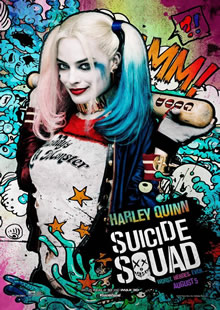 Starring: Will Smith, Margot Robbie, Jared Leto, Jai Courtney, Viola Davis, Cara Delevingne, Joel Kinnaman (Rated M – 123 min).
What should be a flourishing anti-superhero adventure, in the darker than Marvel universe of DC Comics, is too dull to be exciting, wholly relying on the glorious array of distinctively unique villains picked by the government to take on the nasty elements of crime considered worse than themselves.
The excellent marketing campaign and solid trailers with Queen classic 'Bohemian Rhapsody' blaring in the background of explosions looked the goods, injecting much needed variety into the comic book cinema onslaught and highlighting terrifying character The Joker, this time played bya a cackling Jared Leto (Oscar winner for Dallas Buyers Club).
After a promising beginning introducing the roundup of these crooked misfits by Agent Waller (Viola Davis), they become quickly trained up to work as an elite team for the grace of good, however are told that any disruptions will result in termination. Annoyingly, just in case you forget, character after character reminds us they are the bad guys.
Limp crowd-pleasing antics substitute for what could have been a deep exploration in non-human nature or harder version of family friendly Guardians of the Galaxy complete with mix-tape soundtrack. Not the grandiose alternative lead in to Justice League the filmmakers may have hoped for.
Will Smith as Deadshot is the closest thing to an actual protagonist. Joining him are Australia's own Margot Robbie in short shorts ramping up untamed fan boy fantasies as baseball bat wielding Harley Quinn and fellow compatriot Jai Courtney as Boomerang, the furry faced beer guzzler full of illogical constant rage ready to explode.
Add into the mix an underused flame thrower, fire starter man and humanoid crocodile. Without much personality, the seemingly tacked on backstories do little to generate empathy to their plight.
Sitting somewhere in between youth appeal and adults only action violence, I do not recommend this bleak film for kids especially when The Joker arrives on screen. Surprisingly sensual, cupping his hands on the cheeks of people when talking to them leading a false sense of security before he strikes. Leto does not reach the summit of Heath Ledger in The Dark Knight but still impresses to the hilt of madness in what is unfortunately merely a glorified cameo.
Disappointment sets in after the opening stanza. By the time the computer generated zombies attack in the finale (yes zombies), anticipation of what really could have been a brilliant addition to the pop culture comic book cannon of film adaptations gurgles down the DC drain. Bring on Wonder Woman, fast!
Shane A. Bassett
Sydney Unleashed is one of Australia's premier entertainment publications exploring the latest in lifestyle trends. From Sydney's finest restaurants, cafes and bars to the hottest in gadgets, products, and home entertainment, Sydney Unleashed is your one-stop lifestyle platform.