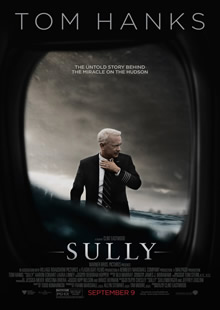 Starring: Tom Hanks, Aaron Eckhart, Autumn Reeser, Anna Gunn, Molly Hagan, Jerry Ferrara, Michael Rapaport (Rated M – 96 min).
On a technical level, brace yourself…literally. Realistic shuddering of being in a plane with engine failure filmed with nerve jangling precision is not a boarding pass one would ever wish to experience. Anyone remotely afraid of flying is best to avoid this predominant drama.
Right about now is when studios begin to roll out end-of-year Oscar hopefuls into cinemas, so as expected this emotionally engaging true story collaboration between Tom Hanks and Clint Eastwood is a quietly powerful award worthy triumph of crisp intensity.
On the cold morning of January 15th 2009 in icy conditions, a routine US Airways flight with 155 people on board had a mishap not long after take-off which led to a diversion and emergency landing on the New York Hudson River. Although this amazing tale became labelled in the media as Miracle on the Hudson, what we have here is a delicate accumulation of details behind the scenes before, during and into the aftermath of the unique event.
There is no other actor more qualified to play veteran of the air, Captain Chesley 'Sully' Sullenberger, than modern Hollywood royalty Tom Hanks. From the calamity of being dealt unprecedented anxiety and acute decision making all caused by a flock of birds to a sense of relief during the in-house trial and moment when the final verdict is laid down by airline administration. The board have to treat the incident with suspicion until all facts are revealed.
With an entire career of superlatives including personal favourites Castaway (2000), Big (1988), Hanks in close up monologue mode is pure acting masterclass – he has the ability to act with his eyes if required. Visions of crashes haunt the humble hero in his slumber to his waking hours. Faithful co-pilot Jeff Kiles (Aaron Eckhart) remains loyal when Sully needs him most.
Deliberately slow at times, maestro Eastwood used IMAX cameras to enhance the remarkable story told from all angles, pilots, passengers, air traffic control and the New York public witnessing an eerily calm jet gliding where it shouldn't be. These scenes are breathtaking, however it is moving to experience untold scenarios
If the emotions were not running high enough, stay on during closing credits for an introduction to some of the actual evacuees on board that ill fated flight.
Shane A. Bassett
Sydney Unleashed is one of Australia's premier entertainment publications exploring the latest in lifestyle trends. From Sydney's finest restaurants, cafes and bars to the hottest in gadgets, products, and home entertainment, Sydney Unleashed is your one-stop lifestyle platform.