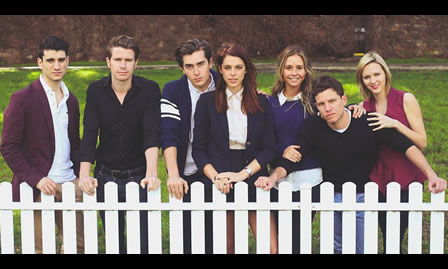 After a successful first season, multi-award-winning Australian teen drama web series, SYD2030, is back for a second season.
The show's creator, Tatjana Alexis, recently took some time out to chat all things SYD2030 with Sydney Unleashed.
Why did you decide to make a second series for SYD2030?
For two reason: (1) YOLO and (2) The incredible and unexpected success of season one established a fan base that we could've never dreamed of. People had been asking for a second season since the first one had ended and their overwhelming investment in the show and support really encouraged us to get our act together and do it!

Did you do anything differently the second time round?
We at Cheese on Toast Productions are control freaks but we realised that if we wanted to make this series bigger and better we were not going to be able to do it ourselves. This time around we allowed more people to help us. It was tough giving up control to others but we are definitely better for it.

How did you manage to fund the series?
We tried everything! We tried finding investors, sponsors, applying for grants but unfortunately the truth of the matter is that webseries' are still not very big in Australia and pushing the medium itself as a viable and successful form of storytelling was incredibly difficult task. In the end we turned to the people who had always been there for us – our fans. We started a Kickstarter campaign and 30 days later we had raised our target of $40,000. We will never be able to thank everyone who donated enough.

What were the best bits of Sydney that were showcased in this season?
Last season we made a wish list of locations and were lucky enough to tick off the Sydney Opera House and Doyles down in Watsons Bay. This season we made a new list and again were lucky enough to tick off Wolfies in the Rocks, The Watsons Bay Boutique Hotel and even got to film on a privately owned yacht!

What do you love most about Sydney?
Sydney is the best city in the world. This is an indisputable fact. It's beautiful, exciting and it's home. Living abroad most of my life – there is nothing like the feeling of flying into Sydney over the harbour bridge and knowing that I'm home.

Did you experience any challenges making this season?
There is a rule in filmmaking where everything that can go wrong on set will go wrong. No matter how hard you try to stay on top of all the variables that can go awry there are some things that are just unavoidable like when it decided to rain the ENTIRE three weeks we were filming this winter.

What was the funniest thing that happened on set while making season 2?
Something that we can laugh about in hindsight is when one of the supporting actor's decided to warm their Danish on top of our toaster inside the wonderful Australasian College Broadway -­ who had so generously lent us their location ‐ and subsequently set off the fire alarm evacuating EVERYONE from the building including all 200 students and teachers not to mention the hefty fine we incurred. Luckily the perpetrator felt so badly about the incident he wrote me a five page essay about how sorry he was…only now can we joke about it. Otherwise anytime Nick Wright was on set the entire cast and crew would be in stitches.

Tatjana, you wrote the whole series yourself, are there any parts of the script that you've taken from your real life experience as a law student?
I wish my experience at law school was even remotely as interesting as those of my characters but sadly I had to make up the whole new world of SYD2030 to entertain myself during law school. The semester structure and law student lifestyle is on point – Study, party, study, party, repeat for five years – but sadly I didn't have any handsome professors to keep me company.

What has been the highlight of making SYD2030?
This part is my favourite. Releasing the episodes and receiving feedback. Validation for all of our hard work.

What's next for SYD2030 and Tatjana Alexis?
SYD2030 is relaunching this year with episode 4 due out in February. I am heading to LA for pilot season.

Where can we check out season 2?
www.SYD2030.com.au / www.youtube.com/user/SYD2030webseries
Sydney Unleashed is one of Australia's premier entertainment publications exploring the latest in lifestyle trends. From Sydney's finest restaurants, cafes and bars to the hottest in gadgets, products, and home entertainment, Sydney Unleashed is your one-stop lifestyle platform.