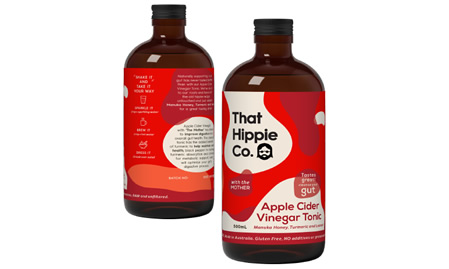 That Hippie Co. launches Apple Cider Vinegar Tonic
That Hippie Co. launches the second product in their bespoke collection with the introduction of an Apple Cider Vinegar Tonic, formulated to boost an individual's overall gut health.
Following the success of That Hippie Co's Apple Cider Vinegar Capsules, the Tonic, packed with the ultimate power ingredients of manuka honey, turmeric and lemon can be enjoyed either sparkled, brewed or dressed.
Much like the convenience of the all new Apple Cider Vinegar capsules, the Tonic is a delicious alternative and a much more pleasant way of getting your daily dose of Apple Cider Vinegar. It can be enjoyed as you please, simply drink it diluted in water, or add it to one of your favourite teas and brew it. You can also use it as a dressing for your next salad, with a zesty kick. Did we forget to mention it makes the ultimate mixer for the perfect summer cocktail? Its uses are endless.
Staying true to their old school roots and promises, That Hippie Co. have left this ancient recipe completely untouched. Not only are the Tonics packed with love but they are organic, vegan friendly and contain no additives or preservatives, leaving a potion that is purely raw and unfiltered.
For centuries people have turned to Apple Cider Vinegar as a natural elixir, known for its many health benefits as well as its ability to support and improve one's gut. We all know manuka honey and turmeric are great for you, but did you know the reasons why? These two ingredients contain high amounts of antioxidants and contain anti inflammatory properties which can aid the body's natural healing process.
Topped with the zest of lemon for vitamin C which helps improve ones digestion and reduces the signs of bloating this tonic will have your gut health on the right track in no time. Simply sip it, shot it or dress it!
That Hippie Co's Apple Cider Tonic retails RRP at $24.90.
Sydney Unleashed is one of Australia's premier entertainment publications exploring the latest in lifestyle trends. From Sydney's finest restaurants, cafes and bars to the hottest in gadgets, products, and home entertainment, Sydney Unleashed is your one-stop lifestyle platform.