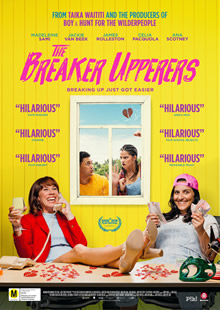 Starring: Madeleine Sami, Jackie Van Beek, Celia Pacquola, James Rolleston (Rated M – 90 min).
Opening film of the 2018 Sydney Film Festival to an audience of 2000, most of the crowd audibly enjoyed The Breaker Upperers – I did not.
Female oriented brash so-called comedy straight out of New Zealand is embarrassingly flat, more often than not, slowly getting worse while trudging along. A pair of free-wheeling women decide to use their own circumstances to launch a business to assist with heartbroken or cheated on individuals to get on with their life leaving whatever tragic relationship behind. Possibly much of the humour is lost in translation, however Australian and Kiwi tomfoolery usually isn't that far apart. On this occasion there is very little to smile about, rather hang your head in disbelief into eventual boredom.
Dynamic duo writers, directors and stars of this mess: Madeleine Sami is Mel, Jackie Van Beek is Jen. Both obviously passionate and trying hard to land zingers all the while unsuccessfully attempting to shock the audience with out of the ordinary sex situations. Whatever romance here is basically between the best friend leads. Side stories of genuine affection with true love evaporate into the absurdity everywhere else.
Although on the outside this may seem like a chick-flick in the area of Bridesmaids (2011), it's not up to that standard on any level. An extended fantasy sequence involving karaoke of Celine Dion song 'It's All Coming Back To Me Now' is sadly about as creative as it gets.
Comedic moments are at a miniscule level, awkward is not funny, although Sami and Van Beek deserve A for effort. Radiant Australian actress Celia Pacquola was a sight to behold while look fast for a Xena alert, Lucy Lawless cameo in the opening montage.
See this at your own peril although it is better than recent Australian zero star comedy, The BBQ.
Shane A. Bassett
Sydney Unleashed is one of Australia's premier entertainment publications exploring the latest in lifestyle trends. From Sydney's finest restaurants, cafes and bars to the hottest in gadgets, products, and home entertainment, Sydney Unleashed is your one-stop lifestyle platform.