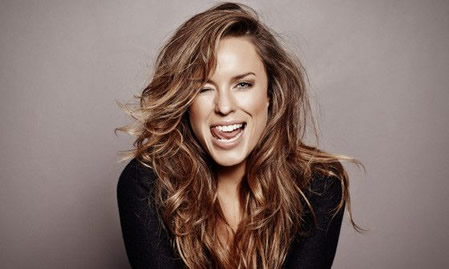 The Meg: Jessica McNamee Interview
Australian actor and radiant talent, Jessica McNamee, has impressed from early days in much loved series Home & Away to be lauded as a standout as Billie Jean King in Battle of the Sexes to putting in an incredibly nerve jangling performance in top notch thriller The Neighbor. Even in the atrocity Chips, there was something about Jess. Already a global box office bonanza, giant shark creature feature The Meg features Ms McNamee as Lori, ex-wife to hero Jason Statham and popular international underwater science lab crew member. We discussed working on the film in New Zealand, also co-stars including fellow Aussie it-girl Ruby Rose and among other things, fluffy pooch Pippin.
Have you been back to Bateau Bay or Avoca since the wedding you attended earlier in the year?
JM – No I have not, no chance to get back there. Actually one of my best friend's weddings is in Newcastle in October, I will be back for that so hopefully I'll return to Avoca as well.
Your reaction to the huge success of The Meg so far.
JM – Crazy, I never have expectations of the work I do as it's such a fickle industry or can be really disappointing at times. I went into this project with no expectations and now pleasantly surprised, I know the studio, critics, everyone kind of thought we may get half the amount of box office opening weekend figures than actually happened.
How many dogs were used as Pippin in the making of the film?
JM – (laughs) There was only one Pippin, I am a real dog person so when we were on the boat shooting those scenes, I was playing with Pippin, a lot! While not really knowing how big of a role Pippin would play in the end.
The scenario is launched by your character, how did you land the role?
JM – One of my easier auditions. Originally there was talk of Lori being not Jonas' ex-wife, but Jonas's sister. So when I first walked in, I auditioned for the sister with a British accent. However when I arrived, casting director said: No, it's been changed back to his ex-wife so you need an American accent immediately. I was like, Oh my goodness…OK, and actually walked out laughing at how ridiculous the whole scenario was thinking there was no way I was getting that role. That was it until around two months later, I received the call: Can you be on a plane in 48 hours to New Zealand to film over five months or whatever.
How much training did you have to partake in?
JM – Two weeks before shooting, we had swimming, deep sea diving training, it was intense. Also had to do inside the submersible training for the whole complex system they built for that. All the control panels, obviously what you can see in the film. Touch or swiping of screen instructions, it's not straightforward while understanding all the different functions to manoeuver the submersible. It was great spending time perfecting that.
It looked to be a magnificent practical set inside so it makes sense you had to learn the technical aspects.
JM – I did a bit (laughs), don't know if I could drive a real one, maybe pretty close.
Do you have an actual fear of sharks?
JM – I don't love sharks, I always remember going up to Lake Macquarie always afraid I'd be eaten by sharks when wakeboarding. But the older I've got, I think I have more fear of them that's for sure. I do get a little bit scared going out the back in waves never wanting to be the furthest one out, someone else can be shark bait.
Were any of your shark scenes practical or acting at empty spaces?
JM – Ahh Shane, nice question. No we were looking at empty spaces as Jon Turteltaub (director) would be on another platform level yelling out instructions: 'Look to the left, look to the right, be scared'; not as scary as it looks that's for sure.
What sort of a bloke is Jason Statham, he seems a man's man?
JM – He is lovely, obviously he set the tone for everyone on set being 'his' movie. He was lovable and kind to all of us, the crew, actually a pretty down to earth guy, not fussy. Remains efficient, gets the job done, not showy, quite chill and a hard worker.
Fellow Aussie Ruby Rose, had you known her before making The Meg?
JM – Yeah we knew each other meeting when we were younger in Sydney through a few mutual friends. We hadn't seen each other for a long time. It was funny, for once I was first cast I think after Jason and she came on a little later. Originally I don't think her role was in the movie until they wanted to add another female character to proceedings from memory. I actually thought Ruby would be perfect then Ruby got cast. I reached out to her saying: Hey, looking forward to working with you, so we kept the conversation through social media then she arrived and became much better friends on set.
You kind of moonlighted as a Casting Director.
JM – Exactly (laughs), would love to be a casting director.
Are you prepared for a Meg sequel/prequel, is it an option in your contract?
JM – Wait and see, I would love there to be one and whether producers would use all of us is another thing. Half the cast don't make it right. Cannot confirm or deny as yet.
Last time we spoke, you said how keen on writing you are. Have you completed more?
JM – Yes I have completed one. Started on another one now which is an Australian horror film which I have been working quite hard on. It is untitled at this point so no exclusive sorry Shane. In extremely early stages, so desperate to get back to Australia and do directing or definitely produce something out of home. There's so much talent.
An upcoming film, Locusts, was shot around Broken Hill (NSW). Tell me about that.
JM – Izzy was a fun character for me, I had quite an amount of input developing the character, really fought for her details. She is basically the only female throughout the film so initially reading it, all I wanted to do was beef the character up with more of a backbone. The entire cast are outstanding, a good time working with them, unforgettable.
Cheers Jess, always been an admirer of your work. See you soon.
JM – Thank you Shane for all your support again, and chill interview.
THE MEG (Rated M – 113 min)
IN CINEMAS NOW
Shane A. Bassett
Sydney Unleashed is one of Australia's premier entertainment publications exploring the latest in lifestyle trends. From Sydney's finest restaurants, cafes and bars to the hottest in gadgets, products, and home entertainment, Sydney Unleashed is your one-stop lifestyle platform.