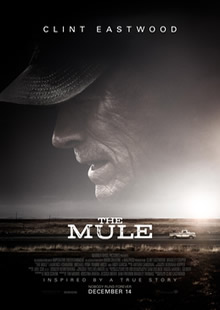 Starring: Clint Eastwood, Bradley Cooper, Alison Eastwood, Laurence Fishburne, Dianne Wiest (Rated M – 116 min).
The Mule is apparently based on a true story derived from a newspaper article of an elderly man who ends up being a large part of the Mexican drug cartel.
The great Clint Eastwood, now 88 years of age, also directed this interesting drama. He plays Earl Stone, a quiet man, horticulturist professional and general grizzled grump with life regrets. He meets a dodgy guy, who we know is dodgy but Earl does not at first, especially when this stranger offers Earl a job to simply deliver a package. He does this once, does this twice and keeps doing it while being paid a lot of money for each delivery. Considering the financial woes Earl has, it is a way to do something he loves, driving while being paid to do so.
Highway patrol, border control and state police really have no idea or clues at first just disregarding Earl as a typical senior citizen riding around the countryside in an old ute stopping off every now and again in various off track locations to sight-see. Eventually DEA officer Bates (Bradley Cooper) picks up on activities following Earl as a possible, however unlikely, suspect.
The movie is slow concentrating on life itself, family bonds to reaching the twilight years. Clint himself gives his performance a sympathy such as he always does as an older actor. It's charming to see, while darkly funny at times also. However there are some racial slurs that may upset a few audience members, albeit prominently inline to the storyline and character.
Real life daughter Alison Eastwood, whom has appeared in multiple films her dad has made, plays Iris. While another screen legend Andy Garcia is always terrific to see and while too many top notch supporting cast to name, let's not forget Oscar winner Dianne Wiest (Bullets Over Broadway, The Lost Boys). She's delightful and fantastic counterpoint opposite every scene with Clint.
Including a sleight Latin jazz score composed by Arturo Sandoval, The Mule entertains, reminding us of how brilliant this veteran of the screen continues to be over his 70 year career.
Shane A. Bassett
Sydney Unleashed is one of Australia's premier entertainment publications exploring the latest in lifestyle trends. From Sydney's finest restaurants, cafes and bars to the hottest in gadgets, products, and home entertainment, Sydney Unleashed is your one-stop lifestyle platform.