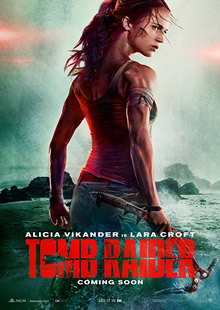 Tomb Raider: Movie Review
Starring: Alicia Vikander, Kristin Scott Thomas, Dominic West, Walter Goggins, Jaime Winstone, Nick Frost (Rated M – 118 min).
There is a reason it has been fifteen years since Angelina Jolie graced the silver screen sporting her silver wetsuit as global adventurer-traveller-fighter, Lara Croft. The daughter of a wealthy missing archeologist heir, they were ordinary forgettable films.
I saw them both, however cannot remember anything about them other than Lara punched a shark in The Cradle of Life and after reconciliation in real life, her father Jon Voight appeared in one.
With low expectations on movies derived from video games in general, I gave this Tomb Raider semi-origin story a fair chance after the casting of unassuming action hero, Oscar winner Alicia Vikander. As predicted, she is the biggest joy. So strong, witty, beautiful, sublime, effective, seemingly doing many of her own Lara Croft acrobatic stunts.
After a slow start, my thoughts were grim – especially during a ridiculous London streets pushbike chase. Momentous action eventually kicks into gear that if nothing else, maintained escapism entertainment value. Dumb plot points baffle, at least aspects are lifted straight out of various incarnations of the game – hopefully intentionally by Norwegian director, Roar Uthaug.
Lara goes from bicycle courier duties to global trekker when discovering mapping details from her missing father whom, via video message, has left instructions that must be destroyed. She crash lands on an island with mean gun-toting treasure hunters with slaves, yes slaves, sledgehammering rocks – I couldn't believe this. However all that aside, Lara is caught, escapes, finds some truth about her father's whereabouts and runs trough a Raiders of the Lost Art like tunnel of traps.
Fight scenes are well choreographed; Vikander takes physical risks amping up the fun and looking good firing off arrows. Shakespearean thespian Derek Jacobi is wasted in a miniscule role, fantastic Kristen Scott Thomas doesn't fare much better.
Better than previous Tomb Raider instalments. This reboot kept me alert, pure guilty pleasure if you will.
Shane A. Basset
Sydney Unleashed is one of Australia's premier entertainment publications exploring the latest in lifestyle trends. From Sydney's finest restaurants, cafes and bars to the hottest in gadgets, products, and home entertainment, Sydney Unleashed is your one-stop lifestyle platform.