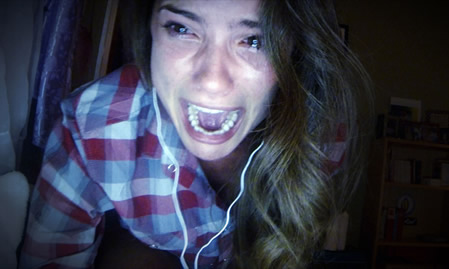 Unfriended – Cybernatural – Offline
In a world when technology seemingly evolves as rapid as the days go by, the advent of social media rises in popularity by the minute. The found footage movie genre has unbelievably remained on the uprise since the Blair Witch Project basically introduced cinema goers to the concept in 1999.  In the early days of the internet, this breakout film was advertised as a real missing persons mystery. Headshots of the supposed missing trio lost in the woods were plastered on telegraph poles all around America while 'Have You Seen' adverts popped up online in order to create a reality of locating their unknown whereabouts. It worked, freaking people out at the time, myself included, it remains the movie made for the lowest budget gaining the biggest box office profit.
Taking it to another level is the long gestating thriller which gained traction on the film festival circuit, now about to be released into cinemas. With a serious message of the effects of anti cyber bullying at its core, it is played for horror as the scares run rampant. Filming with the working title Offline, renamed Cybernatural, now officially known as Unfriended, this new addition to the unlikely expanding found footage canon could be described as tech-panic.
Initial adjustment may be required for some as there is hardly a moment during the film when the audience isn't subjected to multi-split screen broadcasting from a laptop. The story involves two young lovers about to embark on some interactive virtual foreplay when suddenly cutting in and joining the online would-be seduction are friends linking in through Skype just because they can. Meanwhile, a recent uploaded awkward video of friend Laura Barns (immensely talented Heather Sossaman) a fellow high school student filmed drunk at a party in embarrassing situations went viral and in turn caused the girl into depression with the most extreme of outcomes.
While vacantly chatting about 'nothing' in the very apparent teenaged vernacular, the group are joined by an unnamed guest from the Skype account of their recently deceased Laura Barns. Demanding to know who uploaded the raucous video, the mystery guest threatens to dispose of them one by one until a satisfactory confession is made. What follows I am not going to spoil here, but be warned as supernatural shock tactics successfully aim to create high tension that may upset some viewers, however those who love their horror movies splattered with gore may be a little disappointed.
Like the popular but critically ravaged Paranormal Activity film series, to me it's what you don't see but can hear or glimpse that make things scary. Causing me to go into a cold sweat and uproarious squirming in my cinema seat, the original Paranormal Activity revived the genre of low budget horror using a basic video camera and home surveillance to 'show' unseen ghosts.  Unfriended is quick to get to the point and different. Few like Paranormal Activity and its sequels, my view is they are clever.
The whole film is viewed from the laptop of one individual Blair (Shelly Hennig of Teen Wolf fame) with a stream of open windows on screen, there is always something happening and on repeat viewings if one is so inclined, more clues could be offered. Serious horrors of social media is covered with the horrible nature of cyber bullying a real threat and cause for concern, but this is fantasy and made for scares. While the recent hit teenage comedy The Duff also touched on bullying in its themes, the very realistic British made drama The Cyberbully that recently aired on ABC TV starring Game of Thrones starlet Maisie Williams is hardcore in approach.
The target demographic generation alpha should enjoy the cheap thrills of Unfriended and ironically Universal Pictures in conjunction with MTV films who have acquired the distribution have gone back to basics following the lead of Blair Witch Project and set up some interesting online advertising to raise awareness from fake twitter accounts to messaging icons of Laura Barns.
Except for the obvious thought, why not just log off Skype? Unfriended is worth the ticket amongst a barrage of upcoming big budget blockbusters, but avoid revelations, see it before anyone else ruins the instantaneous bizarre plot twists.
Shane A. Bassett
Sydney Unleashed is one of Australia's premier entertainment publications exploring the latest in lifestyle trends. From Sydney's finest restaurants, cafes and bars to the hottest in gadgets, products, and home entertainment, Sydney Unleashed is your one-stop lifestyle platform.