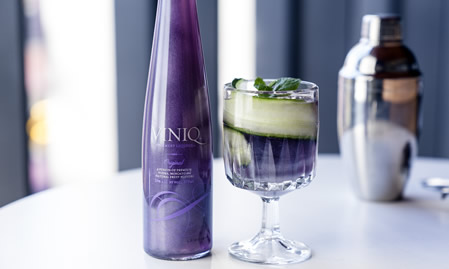 VINIQ liqueur has just launched in Australia, the country's first ever shimmery liqueur made from a delicious fusion of premium vodka, Moscato, natural fruit flavour and a one-of-a-kind shimmer – the perfect ingredient to ensure cocktails look as good as they taste.
The alluring shimmer is the same ingredient that gives frosting its shine or rock candy its sparkle and is set to mix up the Australia liquor landscape. VINIQ gets its signature shimmer through the addition of powdered mica, a mineral used in baking to give a pearlescent sheen, the end result being a one-of-a-kind cocktail for any girls-night-in or decadent dinner party.
"We are really excited about the upcoming launch of VINIQ. We believe VINIQ will not only turn heads and kick off conversations, but that it tastes beautiful and is the perfect base for refreshing fruity cocktails.
"The irresistible shimmer catches your eye in the bottle and in your glass and is a fabulous way to mix something interesting and unique into every occasion," said Connie Tomlinson, Brand Representative VINIQ Australia.
VINIQ Ambassador and Australian Bartender of the Year, Kurtis Bosley has celebrated the launch with the creation of a 'VINIQ -ly Chic' cocktail recipe.
"As a bartender, I see a lot of different cocktail ingredients but VINIQ certainly has an edge. The shimmer is eye catching and creates a real point of difference so VINIQ-ly Chic has been designed to highlight this Australian first.
"I've featured Creme de Peche de Vigne to accentuate the peach undertone in the VINIQ, while the grapefruit and lime work together to bring out the citrus notes and balance out the sweetness. Finally, the rhubarb bitters have been added to round out the flavour profile and give it a real depth and complexity. The mint and the bitters work harmoniously together for a full sensory experience when drinking the cocktail as it will be visually stunning, with a really bright, vibrant and fresh aroma."
VINIQ-ly Chic recipe:
Ingredients
– 50ml VINIQ liqueur
– 15ml Vodka
– 10ml Creme de Peche de Vigne
– 30ml Fresh lime juice
– Dash of Rhubarb bitters
– 10ml Fresh grapefruit juice
– 4 Mint leaves
– 1 Cucumber strip
Method
Add all liquid ingredients and 2 mint leaves into shaker, add ice, shake hard for 10 seconds, double strain into a vintage coupe, add ice, garnish with a cucumber strip and mint. Enjoy!
VINIQ is available now from Dan Murphy's stores nationally (375ml, RRP $24.99).
Sydney Unleashed is one of Australia's premier entertainment publications exploring the latest in lifestyle trends. From Sydney's finest restaurants, cafes and bars to the hottest in gadgets, products, and home entertainment, Sydney Unleashed is your one-stop lifestyle platform.