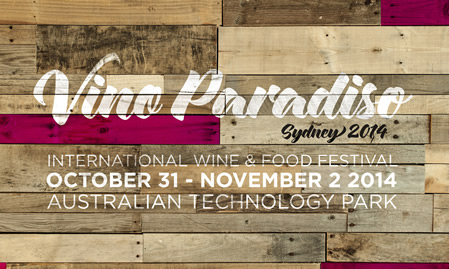 Vino Paradiso is thrilled to confirm Darren Robertson, one of Australia's hottest chefs from Sydney's Three Blue Ducks and co-host of Network Ten's Recipe to Riches, is joining a plethora of other innovative and contemporary influencers as a Tastemaker at the inaugural wine and food festival Vino Paradiso.
Vino Paradiso is a three-day event taking place at the Australian Technology Park, providing an unparalleled opportunity for Australian wine and food enthusiasts to enjoy, interact and engage with Australia's best wine, food, craft beer, cider and spirit influencers and producers.
Darren will come on board as the Vino Paradiso Culinary Tastemaker and as part of his role Darren will host a series of Cooking Demonstrations at Vino Paradiso, interacting with Vino Paradiso visitors on how to prepare fresh seafood using seasonal produce this spring.
Darren, Vino Paradiso Culinary Tastemaker, said "Vino Paradiso is new and on the front foot in regards to delivering engaging activity from progressive leaders who are crazy about wine, food, craft beer, cider and spirits and want to share their knowledge with other Sydney wine and food enthusiasts.  I'm really looking forward to being part of the festival this spring."
Directors of the Vino Paradiso festival Keiran Tanner and Matt Williams agree Darren is the perfect compliment to the festival and the team are thrilled to have him on board as a Tastemaker.
"Darren is one of Australia's most exciting chef's in town at the moment, who is truly passionate about seasonal and fresh produce and is doing some really spectacular things at his amazing café in Sydney, Three Blue Ducks.  Darren is the perfect fit to the Vino Paradiso Tastemaker program that includes the "fun crowd" from Sydney and beyond who are leading the way in their respective food and drinks industries through creative vision, innovation and difference.
"Like Darren, Vino Paradiso is also shaking things up this spring delivering wine and food loving Sydneysiders and beyond with an opportunity to immerse themselves in the best of international wine and food in an engaging, fun, entertaining and interactive environment.  We're really excited to have Darren as part of our Tastemaker program," said Keiran.
Darren will join a series of other young, dynamic and influential drinks authorities including Vino Paradiso Biodynamic Wine Tastemaker Peter Windrim who is the savvy, young winemaker at Krinklewood Biodynamic Vineyard; Vino Paradiso Cocktail Tastemaker Grant Collins who is one of the world's most experienced and acclaimed mixologists; Vino Paradiso Wine Sommelier Tastemaker Sarah Limacher from The Keystone Group; Vino Paradiso Sake Tastemaker Slava Beliakova who is one of Australia's first sake sommeliers; Vino Paradiso Beer Tastemaker Oscar McMahon from rock'n'roll brewery Young Henrys; Vino Paradiso Cider Tastemaker Ian Rayner who is head brewer from Western Australia's biodynamic cider company Custard & Co.; and Vino Paradiso International Wine Tastemaker Tom Egan who is the winemaker at Jed's Wines and Wine Importer at Porteño restaurant in Sydney.
At Vino Paradiso, Sydneysiders and beyond will have the opportunity to participate in the Vino Paradiso Masters program, a series of progressive masterclasses hosted by the Vino Paradiso Tastemakers as well as the opportunity to taste wine, food, craft beer, cider, spirits and cocktails onsite in a design-savvy, lounge bar-like environment.  Consumers will also be able to purchase product and produce to take home.
Vino Paradiso will be held at the Australian Technology Park and the entire event aims to bring the outdoor festival, indoors in a fun, interactive, stylish, music and art fuelled context.
Key activities that are part of Vino Paradiso include:
– The Great Wall of Wine and Treasure Hunt: As part of the unique Vino Paradiso offering, the festival will include an architecturally designed wall that features a bottle of wine donated from every wine exhibitor showcasing at the festival.  Consumers will be able to participate in an event wide treasure hunt that will encourage attendees to visit & interact with exhibitors, and then go into the draw to win each bottle of wine on display as part of the Great Wall of Wine. The wall will be given away to a visitor every session!
– Grape Crushing: Vino Paradiso will be bringing the process of wine making to the city with two purpose built oak barrels filled with grapes set up & ready for consumers to experience this once-in-a-lifetime, get your feet tingling experience.
–  Live Art Installations: Over the course of three days, 12 of Sydney's leading artists will be creating a mural on the Great Wall of Wine. At the close of the event, each panel will be auctioned with proceeds going to our charity partner.
–  Personalised Wine via live screen printing: A team of professional screen printers will create personalised wine labels at the event for visitors to create and take home their very own individualised bottle of wine.
–  Vino Paradiso Masters program with Australia's most influential wine and food influencers: Get up close and personal with Australia's tastemakers and influencers through unique, engaging and interactive masterclasses. Highlights include:
VP Masters: I love the smell of Nebbiolo in the morning (Sunday 2nd November at 12:30pm): As mythical a variety as Pinot Noir, great Nebbiolo is one of the wine worlds most revered, expensive and often misunderstood varieties. This VP Masters Class takes you on a Nebbiolo trip from Italy to Australia, presented by David Messum from Born & Raised Wines, a self-confessed Nebbiolo nerd! You'll understand what makes this grape so special, what characterises the wines both in Italy and Australia and how to pick one in a blind tasting! Ticket price includes the VP Masters Class & tasting of 4 incredible wines matched to cured meats from Salumi Australia With 4 incredible wines matched to cured meats from Salumi Australia this is going to be one of the most popular VP Masters Classes!
VP Masters: Argentinian Wine Tour (Friday 31st October at 5pm): Join Tom Egan, Winemaker from Jed Wines and prepare yourself for a tasting journey through 6 incredible, unique, Argentinian wines!! Visitors to Tom's Class will drink some of the wines he produces himself in Argentina along with wines imported exclusively for 2 Chefs Hat, award winning, Sydney restaurant Porteño . Tom will take you on an interactive wine tour of Argentina with Pinot Noir from the wilds of Patagonia, to Malbecs from Mendoza, to the divisive Torrontes wines from Salta high up in the Andes Mountains! Taste Argentina, without the airfares!
VP Masters: Raw Cocktails (Saturday 1st November at 9pm): Ticket price includes the VP Master's Class as well as tasting 4 amazing cocktails, personally designed by Lisa McGhee from The Liquor Baroness! Learn about the new Swedish Virtuous Vodka and how they are taking the world by storm with their certified organic flavours made with real fresh organic fruit with no preservatives, chemicals or essences. Just as wine makers stomp grapes to extract the goodness, attendees to this class will be hands-on, using the freshest fruit and veggies, learning to make & enjoy glorious Raw Cocktails that don't require any added sugar or salt to taste organismic!
Vino Paradiso kicks off on Friday October 31 (2014) for three days. Session times are:
Friday October 31: 11.30am – 4.30pm
Friday October 31: 5.30pm – 10.00pm
Saturday November 1: 11.30m – 4.30pm
Saturday November 1: 5.30pm – 10.00pm
Sunday November 2: 11.30am – 6pm
Sydney Unleashed is one of Australia's premier entertainment publications exploring the latest in lifestyle trends. From Sydney's finest restaurants, cafes and bars to the hottest in gadgets, products, and home entertainment, Sydney Unleashed is your one-stop lifestyle platform.