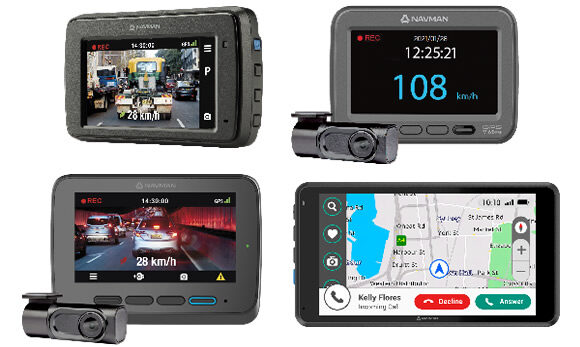 Xmas gifts to keep your loved ones safe on the road
Buy someone a popular dash cam this Christmas and you're not only giving them a new piece of cool automotive technology to modernize their vehicle, you'll also keep them safer on our increasingly busy post-lockdown roads. And save them hundreds or even thousands in fines, loss of excess and higher insurance premiums.
From the entry level to super high premium models for high end drivers, there is something for every driver and motorcycle rider.
Incredible value, quality dash cam to keep them safe
The MiVue™150 SAFETY is a value-packed dash cam that does exactly what it says in the name! This tidy dash cam records in Full HD 1080P and includes a ton of safety features like safety camera alerts, fatigue alerts, and reminders to turn on headlights if you've just left a carpark. Available from all leading retailers and www.navman.com.au/products/dashcams/mivue150-safety (RRP $169).
A need for speed? Then look no further than a MiVue™ SPEEDOCAM DC.
This is the perfect device for the 'lead-foots'. With two cameras – front and rear – this dash cam displays the speed in full on the 3" IPS LCD screen. Both cameras have a Premium STARVIS™ Ultra Low Light Sensor and capture brilliant footage in Full HD 1080P with optimised day/night recording, which you can conveniently share instantly via WIFI. The front camera records at 60fps to capture fast-moving images in amazing clarity. Available exclusively through JB HiFi.
High end drivers – MiVue™1100 Sensor XL DC
With a 30% larger sensor than other dash cameras, the MiVue™1100 sensor XL DC is able to capture greater detail by pulling in more light, and more definition. The front camera records at Full HD 1080P 60 frames per second, made for filming fast-moving objects. It uses two channels to record, which protects front and rear footage and includes a 32GB microSD memory card. Whatever the weather or light conditions, this dash cam will provide all the evidence drivers need. Available from all leading retailers and www.navman.com.au/products/dashcams/mivue1100-sensor-xl-dual-camera (RRP $449).
MiCam GPS – the perfect in-car device for every driver who loves a road trip, and wants the latest in-car tech.
This beautifully designed device has a large 5" screen that fits neatly on the dash and provides full navigation guidance throughout Australia and New Zealand as well as the protection from its camera which records in Full HD 1080P. It is packed with features, ability to search for destinations with keywords, and you can find the nearest parks, petrol stations, cafes, hotels and more at the touch of a button. You can also make and take calls, and it will read out incoming text messages too. Available from all leading retailers and www.navman.com.au/products/car-gps/micam-gps (RRP $299). Also available as MiCam Explore for 4WD/caravan/boats and MiCam Truck for professional truck drivers.
Motorcycle "boys and girls"
If you know someone with a motorbike or scooter, you'll know how important it is for them to be vigilant about other vehicles. This device is made up of a remote control for handlebar, two discreet cameras, front and rear and has a Premium STARVIS™ Low Light Sensor so you can capture any incident in all lighting conditions. It is IP67 Waterproof designed and has WIFI for real-time viewing and back up. High quality, designed and tested for Australian conditions. Available from www.navman.com.au/products/dashcams/mivue-m760d (RRP $599).

Sydney Unleashed is one of Australia's premier entertainment publications exploring the latest in lifestyle trends. From Sydney's finest restaurants, cafes and bars to the hottest in gadgets, products, and home entertainment, Sydney Unleashed is your one-stop lifestyle platform.