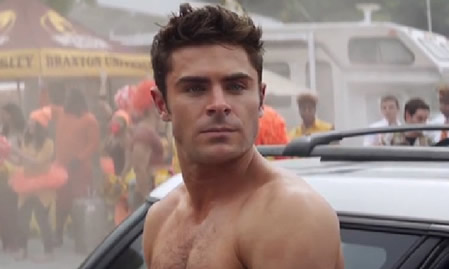 Zac Efron: His career so far
The irrepressible Zachary David Alexander Efron is a multi-talented heart-throb who broke out of the squeaky clean Disney production line of child stars into a now more often than not sex-comedy conveyer belt including the upcoming Baywatch movie revitalisation and the currently in cinemas sequel of 2014 surprise hit, Bad Neighbours.
This time it's a sorority of wild girls in the believe it or not, much funnier more vulgar and incredibly crass comedy about a mild mannered couple being upended by a noisy student share-party-house next door. Certain scenes share similarities to retro classics Porky's and National Lampoons Animal House with Efron returning in a role reversal of sorts this time turning the tables on his female counterparts joining forces with the fed up Generation X neighbours.
Treading the boards in amateur stage musicals to being picked up for small roles on various television shows, it wasn't until he caught Disney's watchful eye for young performers that Zac Efron as we know him was born. High School Musical (2006) and its two sequels had a massive impact on pop culture while helping put made-for-TV Disney original movies back on the scene.
Clean cut, boy next door looks while exhuming fantastic dancing and singing routines made hearts melt the world over. A new tween sensation was constructed by Disney who became overly protective trying to shield him from outside offers to defect.
The second film version of Broadway sensation Hairspray (2007) was in many ways similar to High School Musical semantics but on a larger scale in cinemas opposite an array of Hollywood heavyweights (literally) including John Travolta and Michelle Pfeiffer. Winning more hearts it seemed, in many respects, he was going to be typecast. Luckily the urge to abandon comedy feel-good show tunes for dramatic roles has worked showing his range of ability.
Me and Orson Welles (2008) was not a commercial hit but critics took notice of Zac with glowing reviews. Further serious characters evolved in a wonderful overlooked fantasy Charlie St. Cloud (2010) then as a returning military soldier falling in love with the widow of his fellow officer in The Lucky One (2012). Written by maestro of the romantic pen Nicholas Sparks and starring Taylor Schilling of Orange is the New Black fame, this was Zac Efron officially all grown up and it worked, proving his acting ability beyond the toe tapping song and dance routines.
Experiencing how popular this guy was first-hand was an experience I will never forget both standing on the red carpet interviewing him and walking into a Sydney hotel for the press junket. Gangs of female fans lurked everywhere uncontrollably screaming, waving and even approaching me when he wasn't around asking me all about him. I had to just smile and walk on or I believe I may have been suddenly accosted for information equalling mass hysteria by multiple incoming tweens.
The Paperboy was also released the same year causing all manner of controversy, starring opposite Australia's own Nicole Kidman alongside Matthew McConaughey. Certain scenes were not exactly what fans of Efron had seem him partake in ever before. Screening at the prestigious Cannes film festival, the film was equally booed as it was applauded however Efron stood tall with his image risk-taking role acclaimed.
Ensemble romance New Years Eve (2011) was more to his fans delight but more recently, it's been the sex comedies reminiscent of the no-holds-barred excess of 80s gems Bachelor Party, Fraternity Vacation just to name a few, where he is making an an abundance of hits and misses on the box office front. It is a shame because some of these are actually quite heartfelt and funny such as That Awkward Moment (alternatively titled in Australia as Are We Officially Dating).
Only last year, literally no one saw the brilliant We Are your Friends lasting one week in the cinemas, it made my top ten films of 2015. A personal project for Zac, he helped get it made, the story of a hip-hop dance club trance DJ making it to the big time with original mixes while dealing with falling in love, just did not resonate. The audience it was probably intended for were all alseep from the night before. If you get a chance, see it and turn it up loud.
So, with Bad Neighbours 2, we get glimpses of those famous abdominal grates across his bare top half put to good use again as well as displaying smooth fine-tuned comical timing equalling Seth Rogen and Chloe Grace Moretz (an equally usual intense actor going full comedy). Later in the year, Mike and Dave Need Wedding Dates will hit the funny bone and heart equally proving that Zac Efron is a true all round Hollywood star with a sense of ability to his craft.
BAD NEIGHBOURS 2 (Rated MA – 97 min) Now Showing.
Shane A. Bassett
Sydney Unleashed is one of Australia's premier entertainment publications exploring the latest in lifestyle trends. From Sydney's finest restaurants, cafes and bars to the hottest in gadgets, products, and home entertainment, Sydney Unleashed is your one-stop lifestyle platform.