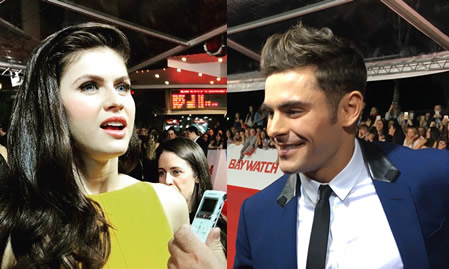 Walking the red carpet at the Australian Baywatch (Paramount Pictures) premiere, I caught up with former Disney alumni Zac Efron, who I find a better dramatic actor than most give him credit for, and stunning co-star Alexandra Daddario.
Hello again Zachary, you're like a regular down under lately. Are you going to make a movie in Australia sometime?
Zac Efron – Always excited to be here. I come in between projects for press so I am indeed a regular. Love to go surfing here, love everything about Australia. In LA, I have a small group of close friends but around half of them Australians. You know we can't always pick our films, hopefully one day I'll be able to but not at that point yet. So if i can, I'll look at projects here.
You're quite good in dramatic roles. Charlie St. Cloud (2010) proved that to me among others. Are you going to delve into them as you have done so many comedies in recent years?
ZE – The past two years have been fun and enlightening getting to work with extremely smart talented amusing people learning a lot from them. I made some movies, they were cool (laughs). Having a blast doing them but always looking to the future, hopefully two movies ahead as to me life is like a game of chess. It's time to change lanes, switch it up, you're right. I look at versatility and in an upcoming film, I play serial killer Ted Bundy and plunge into that. I am going to be afraid, it's a challenge. That's a good sign as they are the kind of roles I seek as an actor.
In Baywatch, I got to say, you kind of look good in drag.
ZE – Appreciate that, I worked really hard. That make-up, I did it myself.
Alexandra Daddario, glowing in a yellow dress, looks me in the eye as we meet, I'm instantly mesmerised. To me she is a rare talent destined to expand on her serious True Detective or American Horror Story persona, although shining in the sidekick or girlfriend role.
So pleased to meet you Alex. Welcome back to Australia after your time filming San Andreas. What was the highlight of making Baywatch?
AD – Thank you, lovely to meet you Shane. So many highlights, the cast are hilarious. It became fun bonding with everyone during all the tanning, diving or whatever it was as a group.
You look beautiful tonight. Are you the type of person that takes forever to get ready for an event or is everything just easy?
AD – It takes soooo long (laughs), forever. I have eight different types of hair pieces, I apply lotion before make-up while deciding if the dress is right. Definitely worth it feeling like a Princess for the night.
There is much swimming and running involved in Baywatch. Were you an athletic person or did you have to do training for this role?
AD – Well I would call myself athletic but still had to do training. I've done movies being involved in stunts before but this one was about what you looked like. That's part of the joke that there is all these supernaturally good-looking people running along a beach so a lot of it was OK: get out the abs, arms or legs. We all had to be in terrific shape which took dedication.
What was your inspiration as an actress growing up, did you always want to perform?
AD – Stories got me, I used to read all the time. Life is confusing, life is depressing at times as much as it is joyful, so there were stories that taught me things. I discovered there were other people who felt the same way I feel. Adding to that, I discovered films going to the Blockbuster on the corner renting multiple movies thinking, 'Oh my god, other people understand me.' My creativity bloomed out of that. It made me want to tell stories, made me want to make people laugh and do the same thing for others that movies/books did for me.
BAYWATCH: NOW SHOWING (Rated MA – 116 min).
Shane A. Bassett
Sydney Unleashed is one of Australia's premier entertainment publications exploring the latest in lifestyle trends. From Sydney's finest restaurants, cafes and bars to the hottest in gadgets, products, and home entertainment, Sydney Unleashed is your one-stop lifestyle platform.