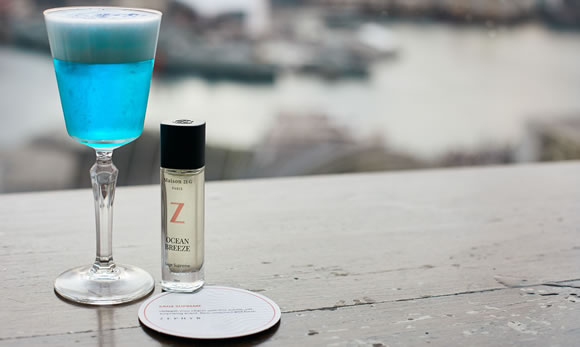 Zephyr Launches Sensory Summer Collection
Boasting panoramic views of Darling Harbour, Sydney's most luxurious rooftop bar (Zephyr) has just launched its latest cocktail menu.
In collaboration with Parisienne scent designer and founder of Maison 21G, Johanna Monange, the team at Zephyr have curated a collection of cocktails inspired by the scents of summer from M21G's Eau de Parfum collection.
As you make your way through the sensory menu, simply select your preferred cocktail and perfume pairing as you sip and smell these tantalizing combinations. If you find a scent you cannot live without, you can even purchase the 25ml bottle exclusively at Zephyr for a combined price of $55. On the menu, you will find:
ROOFTOP 'AIR' – Zephyr Tailored Gin, fresh cucumber and dill, freshly squeezed lime, cane syrup, aquafaba. Served straight up martini style with cucumber and dill. PAIRED WITH MAGNETIC MYRRH – A refreshingly aromatic, crisp and sensual scent that will make heads turn.
ROYAL PASSIONFRUIT MOJITO – Vanilla infused Zephyr tailored gold rum, fresh mint, passionfruit puree, freshly squeezed lime, passionfruit syrup, topped up with prosecco. Served long with candied lime and mint. PAIRED WITH VANILLA VENUS – A sensual elixir that is sweet, hypnotic and very addictive. Unleash the beauty of true vanilla bean.
RASPBERRY SKYLINE – Ketel One vodka, raspberry liqueur, fresh raspberry, pineapple juice, lime juice, cane syrup. Served straight up martini style with fresh raspberry and popping candy rim. PAIRED WITH RASPBERRY REDEMPTION – Irresistibly sweet and always charming. An undeniably fruity fragrance that radiates all day long, with hints of pineapple.
OCEAN BREEZE – Zephyr Tailored Gin, Blue Curaçao, fresh basil leaves, freshly squeezed lime, cane syrup topped up with basil and pomegranate soda. Served straight in a vermouth glass with gold dust. PAIRED WITH SAGE SUPREME – Unleash your charm with this subtle, yet surprising scent. Raw, untamed and fresh.
The Sensory Summer Collection is available at Zephyr from October 2019 to January 2020.
Zephyr Bar Sydney
Level 12, 161 Sussex St, Sydney
Open Mon–Thu from 4pm, Fri–Sun from 12pm
Sydney Unleashed is one of Australia's premier entertainment publications exploring the latest in lifestyle trends. From Sydney's finest restaurants, cafes and bars to the hottest in gadgets, products, and home entertainment, Sydney Unleashed is your one-stop lifestyle platform.