14 Gift Ideas For A Football Fan
Are you looking for the best football gift for your loved one? It's no doubt that the quest for the best football gift might be daunting. Fortunately, we'll discuss some of the best football gifts suitable for different fans of different ages. Continue reading, and you might find the next gift that will create sweet and long-lasting memories for your loved one.
1. Football Fun Book
If you're looking forward to surprising a young football fan, try a football fun book. This book features all football champions of all genders and highlights skills required to be an expert in the football arena. Therefore, if your young one wants to practice some skill that might make them stand out in their school football team, this might be the ideal gift.
2. NFL Socks
Most NFL lovers would want to own some cool NFL socks. If you're looking for a gift that won't require you to break the bank, and at the same time make your loved one happy, try these socks. They are stylish, of good quality, and come in different bold colors with a large front logo.
3. An AFL Ticket
If you are looking forward to gifting your loved one with a fantastic gift, try AFL tickets. Buy AFL tickets for your loved ones and make their dream of watching the big match personally come true. All you need to do is research and get legit tickets for your loved ones.
4. Tumbler
Another item you can give to a football fanatic is a customized tumbler. They can carry this anywhere, especially while watching football matches live or on television. They can avoid trips during a game with this tumbler idea. It's durable and easy to use. Additionally, this container keeps the liquid cool for quite a while; hence they will be refreshing with cold liquids during the break.
5. NFL Team 3-Piece Grill Set
Football gifts come in different varieties. Surprise your grill king with something they'll treasure for the rest of their life, such as a 3-piece grill set. Whether it's on Christmas, Father's Day, or birthday, this grill set will make anyone shed tears of joy. Besides being a football gift, a 3-piece grill set will be helpful when grilling yummy burgers while cheering for a favorite football team.
6. Stainless Steel Football Whisky Stones
Try stainless steel football-shaped whisky stones if you're gifting a fan of whisky and football. They can put these stones in a freezer and add them to their favorite drink for ice-cold refreshment. This set comprises six rocks and is an excellent gift for someone who loves watching a football match when enjoying a cold drink.
7. Paracord Football Bracelet
A paracord football bracelet is fashionable and showcases where you stand as far as football is concerned. They are stylish, and you won't need to break a bank to afford one. Get one for yourself or your friend and live your dream of owning a football gift with sentimental value.
8. Football Gloves
If you're buying something for a football player, a pair of gloves will lift their spirit. You can try shopping for gloves that come with an ultra-stick fabric on the fingers and palm for easier ball snatching. Also, the back of these gloves should be made from breathable material to prevent sweating.
9. Custom Football Jersey
Nothing says "I love football" like having your name on the back of a favorite team's jersey, whether you're on vacation or at home. Most individuals dream of having their name emblazoned on a jersey, whether they played for a high school team or enjoyed cheering. You can effortlessly get your loved one a custom football jersey without draining your bank account and make their dream a reality.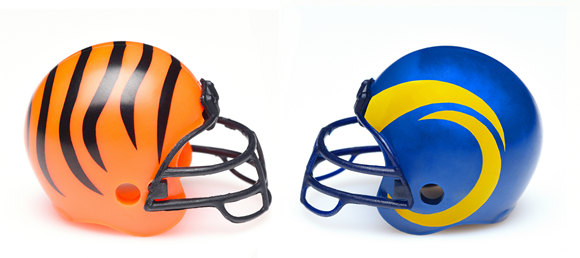 10. Football Team Mug
Regardless of your team of choice, ceramic mugs are ideal gifts for any football enthusiast. The mug is customized, meaning it bears your favorite team's logo to satisfy all fans' needs. You can also add a message on the mug's back to make it even more personalized.
11. Personalized Football Magazine Cover
A personalized football magazine cover might be the best gift for a 'crazy' football fan. This can be an excellent idea for young football fans or adults who are football die-hards. This gift can also be a suitable gift for a woman who has tremendous love for football and would love to have a football magazine bearing her photo on the front page.
12. NFL Team Pride Light
Each football fan would want their home to be the most spirited one in the area during the big game. If your giftee is a football die-hard, gift them an NFL pride light to showcase their love for a particular club by projecting its logo all over the house.
13. NFL Game Used Uniform Wallet
Being in a jersey to confess your strong support for your team is a good idea when hanging out with friends or during football matches. However, it won't be appropriate to wear a jersey to the office. An NFL Game Used Uniform Wallet might be the ideal gift for fans who want to show their solidarity for their team anytime, anywhere. Each wallet comes with a piece of a jersey worn during NFL matches. The wallet also has a hand-cut jersey piece with two team colors and comes with wear and tear for additional authenticity.
Additionally, the team's name is printed on the front of the wallet and has contrasting stitching finishes. The wallet comes with a hologram sticker stating the last time the jersey was worn.
14. Official NFL Football
If you want to give a football die-hard fan a legitimate gift that they'll remember forever, get them official NFL football. Whether your giftee wants to practice their throwing and catching skills or simply wants to own an official NFL item, this gift will be a suitable treasure.
Conclusion
Nothing feels good like receiving a gift that corresponds with what you love the most. This fact is especially true for sports enthusiasts. Those who like rugby would like to have rugby gifts, as football lovers want to have items to do with football. If you or your loved one is a great football fan, you can get them one of the gifts mentioned earlier. These gifts are budget-friendly and will leave your loved one with life-long memories.
Sydney Unleashed is one of Australia's premier entertainment publications exploring the latest in lifestyle trends. From Sydney's finest restaurants, cafes and bars to the hottest in gadgets, products, and home entertainment, Sydney Unleashed is your one-stop lifestyle platform.