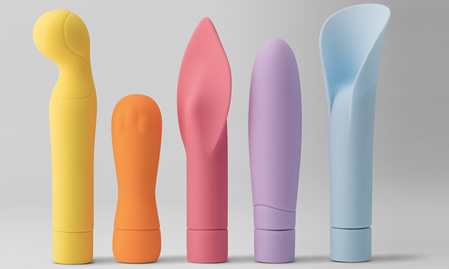 FEEL SEXUAL SATISFACTION IS IMPORTANT TO THEIR OVERALL WELLBEING.
Yet 4 in 10 are not sexually satisfied.
– 96 percent stated their overall perception of women who own sexual wellbeing products as positive
– 76 percent of women feel in control of their sexual satisfaction
– 35 percent of women feel sexual confidence is important to their overall sense of attractiveness
– 57 percent of women feel a vibrator could help improve their sexual satisfaction
– 47 percent of women have used a vibrator before and 61 percent have used a lubricant before
That's according to new research released from Smile Makers today, the award-winning brand dedicated to enhancing and normalising sexual wellbeing for women.
Commissioned to mark the launch of the Smile Makers range of personal massagers and premium lubricants at Priceline Pharmacy exclusively, the research looks to unearth the cultural attitudes of Australian women towards sex.
The research highlighted that many Australian women are yet to shake the embarrassment associated with sexual wellbeing products, with 23 percent claiming they do not feel comfortable in a sex/adult shop whether in person or online. This is in direct contrast to the 96 percent who stated their overall perception of women who own sexual wellbeing products as positive.
But it's time that Australian women feel empowered to let go of the embarrassment and embrace the positive health implications that a vibrator or lubricant can bring to their lives, according to Sexologist and Relationship Expert Nikki Goldstein.
"Sexual satisfaction is something that is important to most women, with many aiming to improve this area of their lives. The use of pleasure products has long been associated with increased satisfaction in the bedroom but the normalisation of how we purchase these products needs to become more mainstream and I think this could have been part of the issue that has stopped women from buying them until now. We are living in a time with increased sexual empowerment encouraging women especially, to take control. Isn't it now about time we gave the everyday woman that control in how they can purchase their sexual wellbeing products?"
Dr Christopher Fox, Sex Therapist at Sex Life Therapy agreed there were multiple benefits to overall health from using these products, "Australian women are right to feel sexual health is important to their overall wellbeing as the two are inseparable. A healthy life includes a healthy sex life, with the evidence of the benefits to physical and psychological health clear. Through sexual arousal and excitement, we release a number of hormones such as endorphins which are our feel good hormones, and oxytocin, our love and satisfaction hormone. Both allow women to maintain positive mental health which is imperative to overall wellbeing."
Some additional key findings from the research were:
– A large majority of women who have not used a sexual wellbeing product are interested in doing so – 81 percent for lubricants and 55 percent for vibrators
– Australian women primarily use lubricants to alleviate discomfort or pain, which 72 percent said otherwise negatively affected their sexual satisfaction
– Of those women who had used a lubricant in the past, 69 percent consider the ingredients of their lubricant and are willing to pay more for quality
– 22 percent of women do not talk to others on the topic of their sex lives
– 62 percent of those who have used a vibrator had purchased the product themselves, while 56 percent had purchased their own lubricant
– 47 percent would like to have sex 1 – 3 times per week, however of all the women surveyed, the reality is they are having sex less than once per week (56 percent)
The Smile Makers brand was created to normalise sexual wellbeing products for women. True to its mission, it is the only brand in the category that cannot be found in adult shops but instead is only sold in environments where women feel comfortable shopping. This is why Smile Makers and Priceline Pharmacy have partnered to bring this brand to the Australian market: Priceline is famous for being a store that women feel comfortable in and know there are knowledgeable staff on hand, in a store environment that has been specifically designed for women.
The vibrator range was specifically designed for those curious to try, but had not found a product they liked in the right environment, while the lubricants aim to bring intimate moisturisers closer to luxury skin care through pure ingredients and feminine design.
Mattias Hulting, the co-founder of Ramblin' Brands – the company behind Smile Makers – said, "Our Australian launch follows the success of the Smile Makers brand across Asian and European markets. It is great to know we can meet the needs of Australian women and help make sexual wellbeing a natural and healthy part of life. We want to remove the unjustified stigma still attached to products such as vibrators and are proud to partner with Priceline to make the Smile Makers range accessible to all women nationwide."
The Smile Makers range of products includes five personal massagers: The Millionaire, The Tennis Coach, The Fireman, The Surfer and The Frenchman and two premium lubricants: Little Light Liquid and Generous Gel.
All Smile Makers products are exclusively available at Priceline Pharmacy. For more information, or to purchase visit http://priceline.com.au/brand/smile-makers
Sydney Unleashed is one of Australia's premier entertainment publications exploring the latest in lifestyle trends. From Sydney's finest restaurants, cafes and bars to the hottest in gadgets, products, and home entertainment, Sydney Unleashed is your one-stop lifestyle platform.