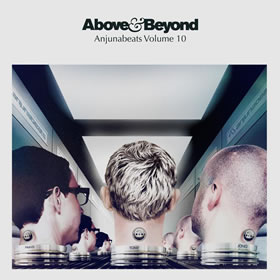 ABOVE & BEYOND: Anjunabeats Vol. 10
Anjunabeats put out their first release in 2000, a production from label bosses Above & Beyond, that became an underground club smash. While thousands of other labels have come and gone in the 12 years since, Anjunabeats now stands tall as one of the world's most respected and consistent electronic music labels.
It is this renowned commitment to A&R and quality control that shines out in the landmark 10th edition of Above & Beyond's label showcase series. On Anjunabeats Volume 10, Above & Beyond present 30 exclusive and largely unreleased tracks from over 20 artists that now make up their diverse, talented label family.
Covering the best in modern progressive, trance and big room club sounds, four exclusive Above & Beyond productions are also among the compilation's many highlights – including the heart-swelling piano intro "Small Moments", the dark instrumental club anthem "Walter White" and the relentless Above & Beyond Club Mix of "Black Room Boy" from the trio's critically acclaimed second artist album Group Therapy.
Adding a fresh perspective on some of the label's most classic material, two brand new remixes of tracks from Above & Beyond's 2007 debut Tri-State also feature thanks to a euphoric Genix rework of "Home" and a long awaited club mix of "Liquid Love" by Maor Levi.
Representing a snapshot of the label's movers in 2013, the compilation also features Arty's futuristic disco trance anthem "Believe In Me", Andrew Bayer's electro-edged "England", the powerful "Aldo" by Norin & Rad and Kyau & Albert's club banger "Glühwürmchem". Anjunabeats Volume 10 is the latest landmark for Above & Beyond.
TRACKLISTING:
CD1:
1. Above & Beyond "Small Moments"
2. Soundprank "Animus"
3. Sunny Lax "Isla Margarita"
4. Audien "Wayfarer"
5. Mike Shiver "Ohh"
6. Above & Beyond feat. Zoë Johnston "Alchemy" (Above & Beyond Club Mix)
7. Jaytech "Inception"
8. Boom Jinx, Maor Levi & Ashley Tomberlin "When You Loved Me"
9. Oliver Smith "Pressure"
10. Ronski Speed & Syntrobic feat. Renee Stahl "Pink Skye"
11. Above & Beyond "Walter White"
12. Kyau & Albert "Glühwürmchen"
13. Maor Levi "Holding On"
14. Ost & Meyer "Here We Go"
15. Above & Beyond "Liquid Love" (Maor Levi Club Mix)
CD2:
1. Andrew Bayer "England"
2. Norin & Rad "Aldo"
3. Genix "Stateside"
4. Nitrous Oxide pres. N2O "K.O."
5. Super8 & Tab "L.A."
6. ilan Bluestone "Sinai"
7. 7 Skies vs. Nitrous Oxide "Right On"
8. Arty "Believe In Me" (Instrumental)
9. Above & Beyond "Black Room Boy" (Above & Beyond Club Mix)
10. Eximinds "Revolved"
11. Above & Beyond "Home"(Genix Remix)
12. Ronski Speed "Sanity Dub" (Exclusive Volume 10 Mix)
13. Lange vs. Genix "Immersion"
14. Mike Koglin vs. 7 Skies "Vision"
15. Bart Claessen & Raz Nitzan pres. Who.Is "Only Totally"
'ABOVE & BEYOND: Anjunabeats Vol. 10' is available now.
Sydney Unleashed is one of Australia's premier entertainment publications exploring the latest in lifestyle trends. From Sydney's finest restaurants, cafes and bars to the hottest in gadgets, products, and home entertainment, Sydney Unleashed is your one-stop lifestyle platform.