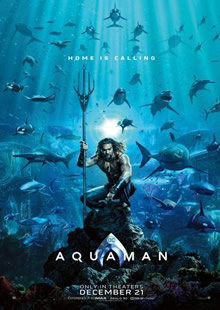 Starring: Jason Momoa, Nicole Kidman, Amber Heard, Willem Dafoe, Dolph Lundgren (Rated M – 133 min).
Made prominently in Queensland Australia, this DC comic book universe fantasy hyperbole is entertaining on all levels of engagement through dazzling visuals. Another positive is illuminating a terrific cast arrangement that all seemingly take their roles seriously, even when things go basically awry in the final stanza.
Former Conan, Jason Momoa, was perfectly introduced as Arthur Curry in the much maligned (although I didn't mind it) Justice League (2017) as the reluctant water-based superhero who can summon the assistance of marine life in order to regain peace against conflict or a familiar case of villain world domination.
Clever, eager, sometimes clueless, learning, he is the heir to Atlantis, Arthur needs to protect his people at all costs from threatening adversaries including his regal half brother King Orm (Patrick Wilson) that strains relations from certain other family members. An underwater battle within a volcanic colosseum holds the attention as does riding around on giant sea horses.
The empowering challenge is happening on one side while Aquaman goes about saving people or fighting sea shanty crimes such as getting involved in a Russian submarine overrun by pirates. Aquatic special effects have been cranked up a notch since Justice League and kids who go see this in their droves may laugh on cue to the strategically placed one-liners while adults may not. Momoa is a natural and fair to say this origin story complete with family flashbacks is setting up for future instalments and cross overs into the DC world.
With an array of local actors popping up in smaller roles, Australia's own Nicole Kidman as Arthur's mum is a Atlantean natural, praise to a cameo from Julie Andrews (Mary Poppins, Victor, Victoria) and big Dolph Lundgren is memorable, albeit  limited performance. Things unintentionally get biblical when Willem Dafoe is around, certainly made me smile. Ponderous it may be, it's also engaging and older kids will love it.
Shane A. Bassett
Sydney Unleashed is one of Australia's premier entertainment publications exploring the latest in lifestyle trends. From Sydney's finest restaurants, cafes and bars to the hottest in gadgets, products, and home entertainment, Sydney Unleashed is your one-stop lifestyle platform.