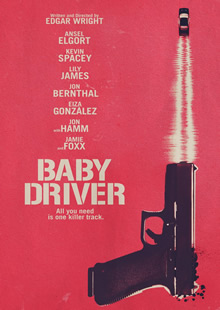 Starring: Ansel Egort, Lily James, Jon Hamm, Kevin Spacey, Jamie Foxx, Jon Bernthal, Eiza Gonzalez (Rated MA – 112 min).
Warning: this is not a sequel to Boss Baby, Million Dollar Baby, Bridget Jones' Baby, Gone Baby Gone or Baby's Day Out.
Owing debt to a Godfather type gangster figure, partial hearing impaired getaway driver Baby, remains keen to get out of the business even though it seems he may unknowingly be locked in for life. Asisting with his tinnitus disorder, Baby constantly listens to a variety of music not only to get through his life of crime but pure day-to-day activities. The fact he can make any kind of driving movie in motion under extreme pressure is a good reason why the thieves want Baby to stay to assist in the robberies.
With too many songs to list, the much talked about soundtrack is an absolute focus point highlighting some of the best scenes in the film including incredible robberies leading to car chases and even quieter moments that involve newfound love interest Debora (Lily Collins). Baby (Ansel Egort) instantly clicks with the gorgeous waitress at a cafe which inevitably plays a historic part of the story.
Full of sharp brilliant passive aggressive dialogue, kingpin Doc (Kevin Spacey) needs his getaway driver for the meticulously planned heists so the fact Baby wants out means very little to this nasty villain. The crew of undesirable crims are a wild bunch of oddities, specifically Jamie Foxx as Bats. Living up to his name, this unstable character keeps the audience on edge and is part of the tone shift the film takes in the third act.
Beginning with fast screaming car tyres, superlative visuals and an almost fun sense of action-comedy done different, things go awry for good reason in the plot that unpredictably engages into suspense thriller. British director Edgar Wright, best known for box office flops that become cult hits such as Shaun of the Dead (1994) or Scott Pilgrim Vs. the World (2010) has easily made his most commercially accessible film to a wider audience.
I'm not so sure Ansel Egort is a standout leading man. He can act, is swift in delivery and looks the part so it's smart that he kind of takes a back seat (pun intended) to the bigger cartoon like players around him, most notably brilliant Kevin Spacey. Lily James is far and away from her singing Cinderella (2015). She is a nice subtle match to Baby, both with personal struggles of a different kind, the romance works. Weirdly, legendary musician Paul Williams plays The Butcher.
Amazing car sequences aside, it's an OK film. Overhyped for sure, still this is worth the experience due to originality and the adults only ambition of what unravels.
Shane A. Bassett
Sydney Unleashed is one of Australia's premier entertainment publications exploring the latest in lifestyle trends. From Sydney's finest restaurants, cafes and bars to the hottest in gadgets, products, and home entertainment, Sydney Unleashed is your one-stop lifestyle platform.