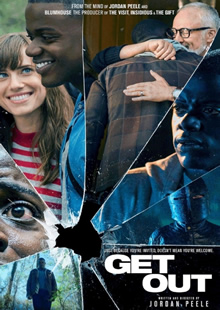 Starring: Allison Williams, Daniel Kaluuya, Catherine Keener, Betty Gabriel, Bradley Whitford, Stephen Root (Rated MA – 109 min).
Far from subtle, resistance to squirm is futile. The less you know about this incredibly intense story, the better the insane impact will be. Rest assured no spoilers here, but prepare for expelling twists galore.
One may walk out of this one wide-eyed and gasping for air, the tonal shifts in this courageous screenplay will keep unsuspecting audiences jolting deep within their seats.
When caucasian Rose Armitage (Allison Williams; best known for controversial television show Girls) takes her fairly new African-American boyfriend Chris (Daniel Kaluuya) to meet the parents, get set for an apocalyptic reaction from the family and their friends resulting in surreal, mind-bending Twin Peaks style mystery.
The glorious, leafy Armitage family estate has been in the family for generations and Rose is keen to show Chris off at a garden party with the entire community in attendance.
Welcoming Chris into the circle of friends gets off to an awkward start being stared down and asked a variety of obscure personal questions without warning. This is only the beginning of ascending madness covering timely social commentary of racial vilification, human instincts and the weird honour system that seems to be part of small town close knit rich people seemingly in some kind of eternal lucid dream.
No one is spared here in spots of black comedy mixed with pure moments of terror. Some of the cast will be familiar but it works that there are no real huge Hollywood stars on hand, solid character actors work in earnest.
Appropriately, soon to be seen in a new series of Twin Peaks, Caleb Landry Jones plays Rose's quietly nasty brother, Jeremy Armitage. Starlet Allison Williams steps it up a few notches from the Girls persona, while as her protective mum Missy, independent film stalwart Catherine Keener (Being John Malkovich, The Oranges) endeavours on making sure Chris looks after her baby girl.
Never pretentious, writer director Jordan Peele has made an experience as much of a visceral story. Quoted as saying he set out to make a film he would want to watch, it certainly packs unforgettable nerve jangling creativity.
Shane A. Bassett
Sydney Unleashed is one of Australia's premier entertainment publications exploring the latest in lifestyle trends. From Sydney's finest restaurants, cafes and bars to the hottest in gadgets, products, and home entertainment, Sydney Unleashed is your one-stop lifestyle platform.