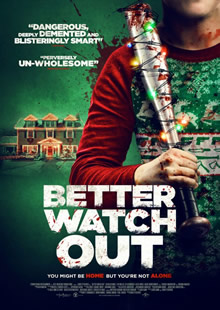 Better Watch Out: Movie Review
Starring: Olivia DeJong, Levi Miller, Ed Oxenbould, Virginia Madsen, Patrick Warburton, Dacre Montgomery (Rated MA – 89 min).
Each year when the silly season rolls around, assorted Christmas films make themselves known to highlight yuletide cheer. Here we have one that may just become a cult hit over time, primarily due to outrageous happenings. Filmed at Fox Studios Australia, this is a snow-covered season set within US suburbia.
On the night before she is set to move interstate, babysitter Ashley (Olivia DeJong) has been booked to look after Luke (Levi Miller), only a few years her junior. He has a sleepwalking condition that his parents are concerned about.
Luke likes Ash in an affectionate way although not completely reciprocated while Luke's immature friend Garrett (Ed Oxenbould) causes mischief close by. It's a not so merry Christmas when strange happenings move fast into scaring the kids and although Ashley acts tough, her vulnerability is tested during a possible home invasion.
Combining horror with thriller elements works best with the right cast delivering from a well detailed script – Better Watch Out is sharp on both. You seriously never know what is going to happen next as calculated vicious incidents take elaborate turns that are best enjoyed if you know limited plot details.
Proudly all three leads are Australian talent on fire. DeJong, who showed promise in The Visit (2015), now elevates obvious stride to a long career, she's strong. Young Miller wasn't the problem with Pan (2015) proving as such displaying brilliant portrayal of Jasper Jones (2017), instantly notching up another level here as the unique Luke.
For a practically single set movie in and around a large house, a lot unveils that will not only widen your eyes in shock but possibly create a wry smile at variable harsh black comedy aspects. Please note: Arachnophobia sufferers beware of an eight legged friend.
Shane A. Bassett
Sydney Unleashed is one of Australia's premier entertainment publications exploring the latest in lifestyle trends. From Sydney's finest restaurants, cafes and bars to the hottest in gadgets, products, and home entertainment, Sydney Unleashed is your one-stop lifestyle platform.