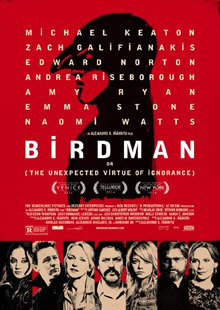 Or The Unexpected Virtue Of Innocence.
Starring: Michael Keaton, Emma Stone, Edward Norton, Naomi Watts, Zach Galifianakis, Andrea Riseborough (Rated M – 119 min). Screening from January 15th 2015.
Beginning in a dressing room at Broadway's St. James theatre, a 50-something male sits wearing white, meditating before final rehearsal of a Raymond Carver play he is starring in. I do believe Michael Keaton will receive an Academy Award nomination for his tour de force performance as Riggan Thompson, once a huge star of blockbuster franchise Birdman, now considered washed up and transparent. Of course Keaton was responsible for bringing Batman back to the big screen in two massive films from director Tim Burton before going into self imposed exile himself, however this is not an autobiography on that particular decision.
Masterful filmmaking and an abundance of camera trickery bring this movie out of the realms of reality. Riggan hears a self doubting voice inside his head enhancing the chaotic rehearsal day which lies ahead. His female lead is a barrel of nerves before her debut Broadway role, his supporting actress may be currently pregnant with his baby, a fourth member of the troupe is sidelined for reasons not completely known and his replacement is a method actor with personal notes on how to sharpen Riggan on stage. A visit from his ex-wife and a chance meeting with a legendary theatre critic in a cocktail bar next door adds to the mayhem.
This absurd depiction of actor insecurity is equally surreal and unpredictable, but the disorganised feel of the story helps with brilliantly conceived unhinged performances. Endless creative touches from international director Alejandro Gonzalez Inarritu (Babel, 21 Grams) is superior to his cast clearly giving it everything in top gear. The flow of his cinematography looks as though it may have been filmed in one continuous tracking shot even though strategically the story often jumps ahead in time. A remarkable achievement on its own while an improvised jazz drum soundtrack perfectly fits.
Prepare to laugh and cringe, sanity rarely prevails. Keaton made a welcome return to comedy in The Other Guys as the stern police chief and TLC pop group lyric quoting Bed Bath & Beyond weekend salesman recalling the manic days of hits Nightshift and Mr Mom. An Oscar would not surprise.
Co-star Emma Stone leads a faultless ensemble impressively obscure from start to end all leading to an outcome no viewer will ever forget and could just incite a rare cinema standing ovation.
Shane A. Bassett
Sydney Unleashed is one of Australia's premier entertainment publications exploring the latest in lifestyle trends. From Sydney's finest restaurants, cafes and bars to the hottest in gadgets, products, and home entertainment, Sydney Unleashed is your one-stop lifestyle platform.