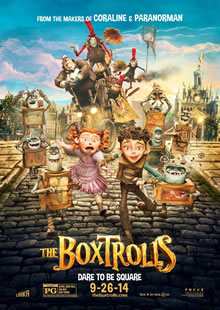 Starring: Ben Kingsley, Nick Frost, Simon Pegg, Elle Fanning, Issac Hempstead Wright, Jared Harris (Rated PG – 97 min).
Based on a children's fantasy novel by author Alan Snow, this is a truly bizarre so-called kids film that only really comes alive and is most delightful whenever the actual Boxtroll creatures appear on screen.
Orphaned as a baby and raised by underground cavern dwelling trash collectors, over time adolescence beckons and he develops a personality all of his own, with human traits. Above ground during unspecified Victorian London times, a group of self regulating Boxtroll snatchers scour the cobblestone streets at night with the intention of wiping out every one of the creatures. At this point only known as Eggs due to the box he wears, the boy (Isacc Hempstead Wright) inadvertently meets the pristine but ignored aristocrats daughter, Winnie (Elle Fanning) who ends up below with Eggs and his weird family of ghoulies.
Eggs learns to be human but still desperately attempts to stop the kidnapping of the Boxtrolls and false accusations that they are flesh eating monsters. In reality they are simple scavengers of objects and gadgets that they use to construct wonderfully unique creations. Friendship and family issues are brought to life, while a confrontation with a mechanical spider-like contraption gave me horrible flashbacks to the finale of the Will Smith debacle, Wild Wild West.
Immaculate stop-motion animation aside, Boxtrolls is restless in what it wants to be. A character with cheese intolerance is simply gross not funny as intended. Has its moments but not enough.
Shane A. Bassett
Sydney Unleashed is one of Australia's premier entertainment publications exploring the latest in lifestyle trends. From Sydney's finest restaurants, cafes and bars to the hottest in gadgets, products, and home entertainment, Sydney Unleashed is your one-stop lifestyle platform.