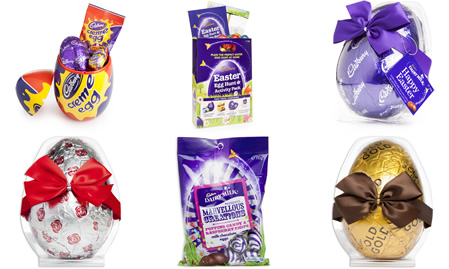 Market leader Cadbury will bring more magic to Australia this Easter with the launch of exciting new additions to their core range.
Back by popular demand, the Cadbury Marvellous Creations special Easter flavour is available once more for a limited time only! Set to tantalise your taste buds, the Cadbury Marvellous Creations Easter range is made from a delicious combination of Popping Candy, Raspberry Chips and Beanies, all combined with Cadbury's signature Dairy Milk chocolate.
Fun-filled and bursting with flavour, the Cadbury Marvellous Creations Egg 30g is set to be an Easter favourite again this year (RRP $1.69), with the addition of their new Cadbury Dairy Milk Marvellous Creations Egg Bag spreading joy in all major retailers 110G (RRP $4.69). To complete the range, we welcome the return of the 200g Cadbury Marvellous Creations Gift Box (RRP $10), 190g Cadbury Marvellous Creations Bunny (RRP $7) and 300g Cadbury Marvellous Creations Egg Crate (RRP $13).
Easter 2015 celebrates all things magical with the new Cadbury Easter Egg Hunt Pack (RRP $12). Each pack contains a combination of Cadbury Dairy Milk & Caramello Easter Eggs, Easter hunt baskets and an activity booklet! Plan the perfect interactive Easter Egg Hunt at home for your family.
Cadbury delivers the perfect Easter gifts for family, friends and loved ones in 2015, with the launch of the 420g Dairy Milk Egg, 420g Old Gold Egg and 420g Roses Egg (RRP $20.00) and the new 464g Crème Egg Jar containing a mix of delicious Cadbury Creme Eggs & Cadbury Dairy Milk Chocolate (RRP $25.00).
In 2015, the Cadbury Dairy Milk Bunny is back better than ever with the magical arrival of both a boy and girl themed bunny (RRP $5.50). Proven to be the most popular purchase at Easter, the Cadbury Dairy Milk Bunny continues to delight all, no matter their age. Research has shown that when eating chocolate bunnies most people tend to eat the ears first, saving the feet until the end, while others bite indiscriminately.
Other Easter favourites returning in 2015 will include the lovable and delicious Cadbury Mini Eggs, which have been increasingly popular with Australians at Easter. Customers will be able to purchase the Mini Eggs in a convenient 45g box (RRP: $1.69) and in a 125g family share bag (RRP: $4.69).
Cadbury Easter Egg Hunt
The Cadbury Easter Egg Hunt and Family Picnic at Werribee Mansion will return in 2015, bringing joy to over 6,000 families. The Easter Egg Hunt will continue to support the Good Friday Appeal, with Cadbury raising over $1million for the cause to date. You can find all of these magical Cadbury products at leading supermarkets, discount department stores, independent grocery stores and petrol and convenience stores.
Cadbury is looking forward to sharing a magical and marvelous Easter with Australian families in 2015.
Sydney Unleashed is one of Australia's premier entertainment publications exploring the latest in lifestyle trends. From Sydney's finest restaurants, cafes and bars to the hottest in gadgets, products, and home entertainment, Sydney Unleashed is your one-stop lifestyle platform.