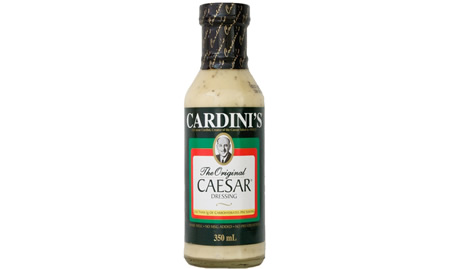 Cardini's: The Original Caesar Dressing
During the prohibition years of the 1920's Tijuana was the smart place to be. It was the land of fine food and drink, elegant casinos and marimba bands.
Hollywood adventurers like Jean Harlow, Clark Gable and W.C. Fields would motor their gleaming coupes down Route #1 across the border and into Mexico for a night on the town. Eventually, everyone wound up at Caesar Cardini's famous restaurant – hotel.
It was at Caesar's Place on 4th July 1924, that Caesar Cardini created the Caesar Salad. On that particular 4th of July, patrons descended on Caesar's Place in numbers the restauranteur was simply unprepared for. Cardini, realising he had to improvise, gathered up some of the staples available in all good Italian kitchens and decided to give his dinner guests a show as well as a meal.
Being a showman as well as an entrepreneur, on a service cart in the middle of the dining room, Cardini went to work with cos lettuce, olive oil, lemons, coddled eggs, parmesan cheese, Worcestershire sauce, fresh croutons, salt and pepper, combining the ingredients with such a flourish, it left his spectators in awe.
The Caesar Salad, and a legend, was born!

Made from all natural ingredients, with no added sugar or preservatives and containing less than 1g of carbohydrates per serving, Cardini's 'The Original Caesar Dressing' delivers the true taste of Caesar Salad without the effort. Cardini's is the ideal addition to salads, seafood and meats such as steak and grilled chicken.
According to Naldo Pacchini of Pacchini & Sons, distributors of Cardini's 'The Original Caesar Dressing', "there have been many variations of the original recipe for Caesar salad but this is the original and the best". In 1938 Cardini left Tijuana and went to Los Angeles where he opened a gourmet food store. The Hollywood folk who had patronised his Tijuana restaurant, requested Cardini's famous salad dressing, bringing along empty wine bottles and jars for him to fill.
In 1948, Cardini and his daughter Rosa, decided to label and sell bottles of the original dressing and established Caesar Cardini Foods, a company which now produces many other gourmet dressings. Three years before his death in 1956, the master chefs of 'The International Society of Epicures' in Paris, proclaimed Caesar's salad as the "the greatest recipe to originate from the Americas in 50 years".
Today, Cardini's 'The Original Caesar Dressing' is available all over the world. The bottled version of the dressing not only combines the one-of-a-kind flavour that made the Caesar Salad world famous, but a special history and romance comes with each bottle.
Cardini's 'The Original Caesar Dressing' is distributed through Pacchini & Sons and is available nationally in Coles, Woolworths, IGA, independent supermarkets, speciality delicatessens and fruiterers. RRP $5.30 per 350 mL bottle.
Sydney Unleashed is one of Australia's premier entertainment publications exploring the latest in lifestyle trends. From Sydney's finest restaurants, cafes and bars to the hottest in gadgets, products, and home entertainment, Sydney Unleashed is your one-stop lifestyle platform.