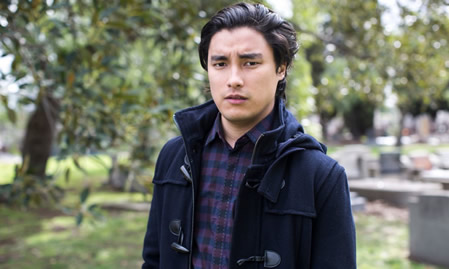 Crazy Rich Asians: Remy Hii Interview
Not afraid to admit I cried my eyes out multiple times in Crazy Rich Asians. It's already a massive global box office bonanza while significantly, the first prominent all-Asian ensemble in a Hollywood project since last century's Joy Luck Club (1993). Australian actor, NIDA graduate Remy Hii, toiled away on various television series' with considerable success. But it's nothing like what commendation is coming his way on playing party boy Alistair in Crazy Rich Asians and being cast in the upcoming Marvel Spiderman blockbuster. It was a pleasure to talk with Remy on his roles and how Asian influences have changed in film.
What is your opinion on Asian representation in film over the years?
RH – Getting better, this film is a testament to that alongside audience response. Representation matters outside to people you're seeing on screen reaching globally. It was so great to see actors who haven't been able to lead a big Hollywood production get an opportunity in our film.
Has it changed for you?
RH – When I first started out, I remember being called in for roles like Hong Kong gambling addict  or I.T nerd – some disparaging roles that seemingly all I'd be seen for. People are now more aware of negative stereotyping with roles opening up for talent from various backgrounds which are specifically not any kind of minority. The ethnic character on Home & Away doesn't have to be a boat person (laughs), you can just be you. Our film is not just a film, it's a movement that is true and a really fun rom-com whether it has Asians as a core story or not, the story is wonderful.
How does it make you feel that it is already a huge box office hit?
RH – Just sitting watching the praise being said is amazing, knowing it strikes a chord with so many. Whole cinemas being booked just to get everyone in to see it is surreal. One of my best friends Chris Pang, also in the movie, (we) called each other up excited trying to figure out what is happening – us two Aussies in the number one film in America.
Were you aware of the book before you landed the project?
RH – Yes but not read it, there were early rumours it was being made into a film so I grabbed a copy to read. Immediately I knew it could be something special. I didn't know it was a best-seller then found out – prominently the biggest admirers were non-Asian and / or female. It appealed to a large span of people which is a great thing. All the credit to producers Nina Jacobson & Kevin Kwan who stuck to their guns in development, determined to do it the right way. When they shopped it around, early studios were suggesting to make Rachel Chu (lead character) white! It's seriously galling to think that now but we are challenging traditional notions of how it can be done.
Was your audition a long process?
RH – Auditioning is never easy (laughs), but I find ease in the room when I'm there, at least four or five on this occasion. They saw pretty much every Asian actor in the world. I flew over a few times after Skype readings, I met Constance Wu (Rachel Chu) to chemistry read together, it all culminated with one of the strangest audition moments I've had. It turned out to be like an old school screen test on an actual built set on the Sony lot, Culver City. Hair, make-up and wardrobe done while rigged up with microphones. Jon M. Chu (Director) asked if I'd ever done a screen test like this because neither had he but it was all about going to the lengths to get the right people.
You're Alistair – any similarities with yourself?
RH – I knew it was for me, I got to go in there and have the most fun in the world (laughs). But will have to be careful what I say here. We are both driven by passion, things that we love, we are both incredibly loyal. Although if you know about the books that follow (spoiler alert), Alistair has a tragic story. I had a few debaucherous scenes to film that were exaggerated fun while at the wedding dance scene, we all had a little liquid courage to get up. So what you see there is a true hybrid of Remy/Alistair.
The wedding scene must have been great to watch unfold.
RH – I count it as my number three as I've only been to two weddings ever. It was filmed over around five long days, it counts as a wedding for me (laughs). Beautiful locations in Singapore helped enhance the fun.
Any Asian actors/performers who have inspired your career?
RH – Hard to say. Growing up, there was just not many. Lost (series) was a big one for me, Daniel Dae Kim as Jin and Yunjin Kim as Sun, were huge. I know they're Korean and I am not but it was just so great to see strong roles. Andy Lau means a lot to me, even though martial arts films were not always my thing, he stood out. Growing up in Australia, my aspirations were to tell authentic local tales or to represent my experience. There were some older Asian Australian actors I would notice but you'd never know them due to rarely getting an opportunity to truly shine, while many of my generation are doing the hard yards to inspire people for the next set of Asian kids to shine.
An undeniable Hollywood shift is here.
RH – You can't deny it, we are topping box office. There have been a number of projects sitting dormant on shelves on desks, waiting to see how this performed and now beginning to be green-lit.
Congratulations on your role in upcoming Spider-Man: Far from Home.
RH – Thank you mate, it's been incredible. Already a life-changer as a most exciting ride, I almost didn't get the role (laughs). When I gained an audition, it was a Wednesday in Australia. All my actor friends were out of town so couldn't get help to shoot it. They needed it by Friday, it didn't happen. That weekend I shot an audition with a NIDA friend, on Monday I heard they'd already completed callbacks in LA in person. Thinking I won't even bother sending it in, I guessed my time had passed. Disheartened, I still hit the send button. Within days, I had a plane ticket to London on proviso; we cannot tell you about the role, cannot tell you character name or what you do, all we can say is you're going to be in Spiderman, if you get on that plane. I got on the plane (laughs), the Marvel security team are no joke, secrets are very close to their chests, an offer I couldn't refuse, very Don Corleone (Godfather). We are in London filming for a number of months, then across Europe before an American shoot, before hitting cinemas June 2019. Many exciting things I'm involved with, big explosions are part of the fun.
CRAZY RICH ASIANS (Rated PG – 120 min)
IN CINEMAS NOW
Shane A. Bassett
Sydney Unleashed is one of Australia's premier entertainment publications exploring the latest in lifestyle trends. From Sydney's finest restaurants, cafes and bars to the hottest in gadgets, products, and home entertainment, Sydney Unleashed is your one-stop lifestyle platform.