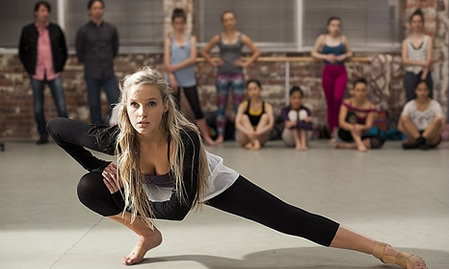 Dance Academy's Alicia Banit
Dance Academy, now showing in cinemas everywhere, was an enormously popular ABC television series with strong scripts and a fantastic cast. Easter school holidays is the perfect time to support a worthy Australian family film on the big screen and we speak with the amazingly underrated Alicia Banit who has been part of this talented, flexible gang since day one as Kat.
Did you and Miranda Otto share any memories of Dead Letter Office on the Dance Academy set?
AB – (laughs) Yes, I saw her and went up saying, 'Hey Miranda, listen, we met before I played a younger version of you!' She was so happy and couldn't believe it, but I have worked with her husband while her dad was on the Dance Academy series so it's like I am part of the family now (laughs). Thing is, I've kind of come full circle because in Dead Letter Office, not only was I a young Miranda, I was a Ballerina.
With so may dance themed films in recent years, how in your opinion is Dance Academy different?
AB – The stories are so relatable throughout the series and now the film. Our fan base constantly remarks that stories of our characters have helped them though difficult things within their life or inspired them to dance which to me is a major part as to why this has become successful. When it comes to the film, people can watch it having not seen the series and still relate not knowing where they come from but seeing where they are going. Universal themes of friendship, relationships, heartache and dreams are there plus it doesn't have to be just about performing dance. Audiences will just think yes, I know how that feels because it seems so familiar. Our movie just works.
Your character Kat has evolved like all the characters from the series. How much of you is in Kat now that you've been her for years now?
AB – I don't know if it's art imitating life or vice-versa. Kat's life story is basically my life story absolutely. Having been an actor or dancer since around 5, I went through a stage of being a prima-ballerina while going to an academy in Melbourne. My dream and a huge part of my life until I discovered that was't going to work for me. Then got back into acting at 16 falling in love with it all over again. Obviously there are a few different reasons but now Kat has got into acting on her own merits, it's great. Growing with these characters over seven years, of course part of me is within Kat.
There's a moment in the film where Kat says, 'Come and meet my shoes'. Do you own a lot of shoes?
AB – My whole wardrobe is jam-packed full of shoes, it's part of my life (laughs). Athough most of them are old now having grown up being a bit of a hoarder just like Kat not being able to get rid of things.
Was that massive pink automobile you traveled in a real one or a fake for the movie?
AB – Yes I saw it on set and was told it was for me. Was so excited it was mine, a crazy moment.
Off screen, you have rather an outstanding fashion sense. Who or what has influenced you to dress so awesome all the time?
AB – Comfort (laughs), as a bit of a tomboy but not a complete tomboy I guess. When I was younger hanging around brothers and friends creating my own style, it was formed to be a little like my brother being a jeans and t-shirt kind of girl. On top of that, I love dressing up for events, but comfort is key. Also if there is something from last season I absolutely love, I am going to go for it instead of everything brand new. It's more my own personal flavour of what I like as long I'm comfortable. If I am at home, it's tracksuit pants and a jumper.
There was a few year gap between the end of the television series to the film announcement. Did you think there would be a revival?
AB – Not really. Talk was happening at the finale with our writer Sam Strauss saying We are going to make a Movie – but that was then in the moment. Then a bunch of the cast were in the US doing pilot season casting and we all met up for dinner with Sam who said she's been brainstorming ideas for various characters. Our reaction was wow great but not until a year later we got a call asking if we were interested. A few months later it was confirmed and the fact it did is insane but wonderful we are all so proud.
Is dancing harder than acting, or acting harder than dancing?
AB – As hard as each other physically and emotionally. Say you're doing a fight scene in an action film, it's all choreographed. So is dancing, mentally and difficult emotional scenes in a storyline to convey at the same time which can be draining. When we had a death of a character in one of our early seasons, it was hard to know we were not acting with him anymore so we all used that as motivation to act.
What is your earliest memory of dancing or acting?
AB – Growing up, I think my mum had confidence issues so for me she wanted me to have high confidence because she took me to the dance school that she went to. But I ran out on the first day screaming 'Mummy' at like 4 years old. It was something I wanted to do though I wasn't pushed into anything. It went from a hobby to wanting it as a career then acting as a hobby to becoming a career.
Kat has a social media drama. How do you think those kind of issues for the current climate of youth going online can relate to?
AB – Absolutely, when it comes to that incident, it happens all the time. I think it's really sad that people judge their self worth based on how many likes they get on a photo or how many followers they have. I hate the idea of that train of thought. Social media can be powerful doing amazing things especially for charity or awareness of great things. Then the horrendous side of it with kids or young people so obsessed with it like for Kat, it becomes an issue with bad repercussions to it, like real life.
How do you maintain your creativity, keeping healthy and fit looking wondrous. Is it good living or excellent metabolism?
AB – (laughs) It comes down to genetics. Although eating healthy and exercise is in there, I have had points in my life with no motivation and didn't work out. It happens and normal for us all. Always important to be balanced but if you're craving Maccas, go have a burger. Don't reprimand yourself for wanting sugar, it's everywhere, part of our lives! So if one thinks, no you can't have it, you're just going to want it more. When it does come to genetics, you don't have to be skinny if you're not. As long as you're working out and feel good, why do you want to be something you are not? It is important that young people are growing up with a positive body image. Photo-shopping is not good, if you've got a bigger frame, that's how you were born.
Are you up for a sequel for Dance Academy if it happens?
AB – Yes but no idea if Sam or our producer has got that far yet. But the story has left it open enough to move forward.
Would you classify dancing as a sport?
AB – Absolutely, it is so physically demanding. If someone didn't classify it as a sport, I would tell them to tell me how they feel after I sent them to a dance class. Whenever I go back to one after not going for a while, every single muscle aches afterwards.
Shane A. Bassett
Sydney Unleashed is one of Australia's premier entertainment publications exploring the latest in lifestyle trends. From Sydney's finest restaurants, cafes and bars to the hottest in gadgets, products, and home entertainment, Sydney Unleashed is your one-stop lifestyle platform.