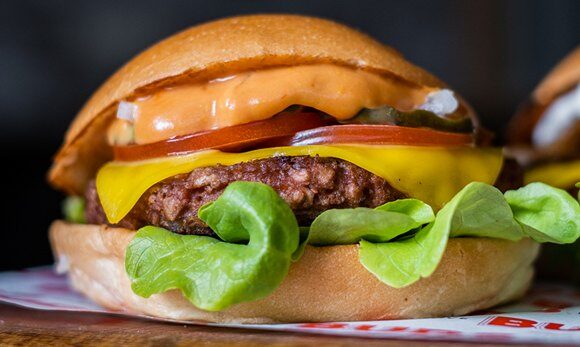 New South Wales' longest and strongest lockdown won't stop Sydney's newest plant-based burger bar opening, giving Sydney-siders comfort food like no other.
The 100% vegan BUDS Burger Bar dark kitchen pop up is a newcomer to the Sydney foodie scene. Dark kitchens, also known as virtual restaurants, are taking the COVID-impacted foodservice industry by storm, allowing businesses to cook meals solely to be ordered via delivery apps. It's a win for all, with foodservice owners utilising empty kitchens that have been left dormant from forced COVID closures and foodies being served up new, innovative menus from the comfort of their home.
BUDS Burger Bar, now available on Uber Eats, utilises at its heart the newest entrant to the plant-based burger scene, Love BUDS™ burger patty. BUDS is the product of Australian start up All G Foods who are set to take a chunk out of the already growing $185 million plant-based food market. Love BUDS™ is winning consumers over one taste at a time and are set to take on the massive US owned Beyond Meat brand, by offering Aussies a local choice when it comes to plant-based burgers. BUDS Burger Bar is launching with six different burgers to choose from and going bun to bun with this American giant, proving that the Aussie burgers are better! The burger options include BBQ, Chilli, Chimi, Classic, Double and Truffle options, all with vegan cheese, sauces, lettuce and a bun sourced from Australian providores.
Taste has always been at the forefront of solving the challenge between making a conscious and nutritious plant-based patty, and one that is comparable to any non-plant-based alternative. In a blind tasting study done by Sensory Solutions amongst a mixture of meat eaters, vegetarians, vegans and flexitarians, comparing BUDS Burger with the international market leader Beyond Meat, BUDS came out on top as the first preference option of consumers.
BUDS Burgers are designed to look, feel, taste and perform like a regular beef burger, yet are designed to be a healthier choice, especially for those flexos looking to reduce their meat intake and move towards a more plant-centric style of eating. Because let's face it, vege burgers are sh*t!
By switching from a regular beef burger patty to BUDS, Australians will receive 21-25% of their daily fibre requirements, high quality plant-proteins containing all essential amino acids and on average 25% less sodium compared to regular beef burgers. And the best bit, BUDS Burger patties are 100% GMO free. Each BUDS Burger patty contains a whopping 20g of high-quality protein in its 125g patty. The plant-based protein assists in maintaining muscle mass and tissue repair, all whilst consuming in a sustainable way.
With the state going into another month of lockdown, so many hospitality venues are suffering, the restaurant economy is seeing the rise of the 'dark kitchen' as a silver lining. BUDS Burger Bar, which operates out of the popular Village Crown restaurant by The Darlin Group in Zetland is available for order 7 days between 5-9pm on Uber Eats (within 5km radius) and for pick up if you live within 5km radius, as per the current restrictions as at September 2021. Looking to expand nationally in the coming months, this BUDS Burger Bar is just the veganning…
BUDS Burger Bar
10/2/4 Defries Ave, Zetland NSW 2017
Socials: @budsburgerbar
Sydney Unleashed is one of Australia's premier entertainment publications exploring the latest in lifestyle trends. From Sydney's finest restaurants, cafes and bars to the hottest in gadgets, products, and home entertainment, Sydney Unleashed is your one-stop lifestyle platform.