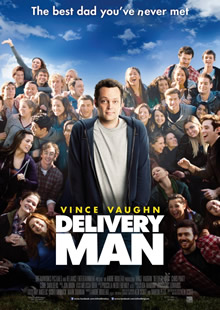 Starring: Vince Vaughn, Coby Smulders, Chris Pratt, Britt Robertson, Bruce Altman (Rated M – 105 min).
I understand some actors need to divert their careers to varying degrees and Vince Vaughn has mostly been in comical slapstick or juvenile humorous roles. I was one of the few who thought he was OK in the ill advised scene for scene remake of Psycho and another movie that few will remember Clay Pigeons helped display his dramatic poise. However, his combination of comedy and emotional acting in Delivery Man is hard to watch. Actually, I found it excruciating.
Vaughn is not entirely to blame in his thankless role as underachieving meat delivery driver, David Wozniak. The story is ridiculous and multiple loopholes in the outcome of whatever the script is trying to achieve falls flat scene after scene. Wozniak has troubles avoiding debt collectors and his on/off again girlfriend announces she's pregnant but isn't sure her partner is responsible to be a new daddy. That is nothing compared to what happens next.
As a young man with stallion like stride, he made money as an anonymous donor codenamed Starbuck. Approached by a stranger, he is told after a mix-up twenty years earlier at the fertility clinic, he is now the father to 533 children who are now suing authorities demanding to know the identity of the donor. After the story goes public in the media, this life changing dilemma forces a re-evaluation to his existence, deciding to infiltrate the world of these unknown siblings and learn who they are as people. Be both their friend and responsible adult figure. Yes you are reading this dreadful premise correctly, it's almost unwatchable. In fact, it is one of the worst movies of the year.
Although just as I thought it couldn't get any more lousy, as already revealed in the film trailer, a big saccharine Disney group hug happy ending just made things hit rock bottom as far as I was concerned. The point of family values is lost in translation. My attention was alert when the talented Chris Pratt was on screen, soon to be seen in the Marvel superhero Avengers alternative, Guardians of the Galaxy. As David's best friend, he has some memorable lines in an otherwise unworthy film.
Coby Smulders (How I Met Your Mother) and Britt Robertson (Under the Dome) round out the only other talent on show here. Delivery Man fails to deliver anything other than inner agitation and a search for the nearest exit.
Shane A. Bassett
Sydney Unleashed is one of Australia's premier entertainment publications exploring the latest in lifestyle trends. From Sydney's finest restaurants, cafes and bars to the hottest in gadgets, products, and home entertainment, Sydney Unleashed is your one-stop lifestyle platform.