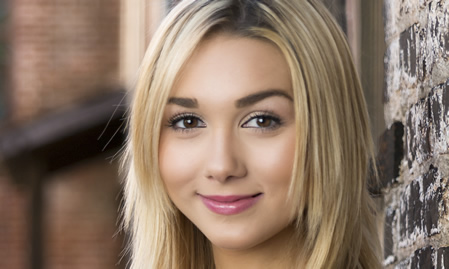 Cheyanna Lavon Zubas Interview
Australian cinemas got a 12 day jump ahead of the rest of the world for the latest highly anticipated Marvel comic universe adventure, Guardians of the Galaxy Vol. 2.
With a headlining cast of multiple big names, it's natural some of the smaller characters may get lost in the mix so it was with great pleasure to speak with the lovely, striking, talented Cheyanna Lavon Zubas who plays a Robot Courtesan.
No stranger to big productions having also appeared in the final Hunger Games installment, fundamentals of her commitment to this small part is obvious and one which could well be expanded in the future. A successful model, singer, musician, poet, she's a genuine positive individual who's got what it takes.
Shane A. Bassett – Have you seen the film yet?
Cheyanna Lavon Zubas – I did at a cast screening in Atlanta last night. Loved it, much more comedy than Volume 1. Quick witted and how director James Gunn incorporated learning more of the sisterhood relationship between Nebula and Gamora. Of course the Iron Lotus scene I am in is 'awesome' (laughs). All the colours and make-up we did looked amazing, it took four hours just for make-up and two for costume just for preparation. It was a smaller part but all my scenes were up on screen in a very big moment of the film. A labour of love and definitely an unforgettable experience.
Could you keep any part of your costume from set?
CLZ – Unfortunately I am not allowed yet as it is something that cannot be released to the public visually until after the movie is released. And part of what I was wearing had a CGI aspect to it also, that adds to the unique quality.
What level of secrecy surrounds a Marvel set?
CLZ – Contracts that explain you cannot release any details of the film, no pictures. But that is typical on most film productions that may jeopardise the film and common sense to me when you're putting in all the hard work to make it that big. With Marvel, it is just a higher intensity.
How was your audition process?
CLZ – Four audition phases with the last one, an interview with James Gunn so he could confirm you were right for the role. He is such a great guy and honestly one of the best directors I have ever worked with.
Who did you work alongside in your scenes?
CLZ – Michael Rooker (Yondu) the most. He is hilarious, such a positive funny guy. We actually had a part in between takes, he was holding my hands and singing to me. I found him a great Southern type guy, fun to work with. He and I actually did a little song together for a while in front of the crew so I wonder if anyone caught it on film. It was a great random moment. Also got to talk to and hang out with Sylvester Stallone (Iron Lotus) a little bit. He's really nice and absolutely huge, in incredible shape. Overall it was exceptionally fun working with everyone, like a family.
What is your memory of your first moment walking on set?
CLZ – It was just a massive blue screen while all around were neon lights, artificial snow and all these different Ravagers who all had their own personalities. Those guys who played them were amusing to be around.
Who inspires you as an actor to be successful or look up to?
CLZ – That is a tough one as I have been a driven person all my life. Whatever inspires me I work hard towards so I inspire myself. In the acting world, I look up to and love Anthony Hopkins, he is amazing. Johnny Depp is unique, Scarlett Johansson is an accomplished actress I admire.
Working on Guardians Vol 2, how would you compare the size of the production to Mockingjay Part 2?
CLZ – GOTG was bigger as far as how we had make-up done and calibre of the actors as a collective. Hunger Games was a little scattered as there were thousands of people running around that set. It was great to work on, hair and make-up fantastic. I played a Capitol Citizen who all had a unique thing they wore defining the character. All in all, they were dealing with so many people at once when at Guardians it was a small tight-knit specific group.
Is modelling harder than acting in your opinion?
CLZ – Not at all, it comes naturally for me I guess having modelled from 15 years old and doing acting since I was 5, mainly theatre doing musicals or the like. At 18, I got involved in films but remained in theatre which helps you be quick on your feet and act the roles enough for a live audience to be entertained, that's a challenge. Modelling for me is about knowing your body, knowing how to pose or look flattering, knowing how to model products or props with yourself. For me that is easier than getting acting right.
Were you self taught or did you go to acting school?
CLZ – At 5, of course I just did it (laughs). As a teen, I studied the craft more in acting classes, then on and off the older I got. With modelling, I have done no professional training. Although I have done vocal classes as I sing and play guitar. It's very easy for me to write poetry which you can turn into lyrics. At 13, I self taught how to play guitar and have always wanted to be involved in music. My husband plays lead guitar so he helps me refine tunes. I've done a range of acoustic shows.
What is next for you, exploring new movie roles I hope? Are you signed up for the next Guardians or another Marvel film?
CLZ – Absolutely exploring many options right now with my agent. I can't really talk about those (laughs) because it's the future and cannot share details. However I have been in the studio recording new music that I think many people are going to enjoy and constantly modelling so you will always see new things or companies I decide to work with. I can't give you any details on the Marvel part of your question right now. Sorry Shane, as much as I would love to.
Do you have your own fashion style or adapt to whatever environment you're in?
CLZ – I'm more an edgy person. Both parents are rockers raising me with a lot of '80s metal: Led Zepplin, Motley Crue, Van Halen, all those bands. When you get into commercial style of work, you have to customise the look a little to be accepted. That's fine but always keep my rock edge on certain projects.
How do you maintain your health and stunning looks?
CLZ – Try to stay away from sugar as much as possible, limit carbs, all that. What I mainly follow is the low-carb high fat diet which is easy for me having done Paleo for a long time. So that and exercise works wonders (laughs). I love the cinemas that bring food or alcohol to your seat. Grilled chicken entree or sushi is always great but indulging is fine occasionally.
What advice would you give a young model looking to get into acting?
CLZ – Talk to your agent about different options if you have one or if not, start looking at agents in your area, do your research on reputable history, that's important. Then you have that push forward to contact people to help your career that you cannot contact yourself. As a model, constantly take care of your body. For acting, try to get in on independent smaller films to learn the process and take classes followed by practice to give an edge to your craft. Never give up.
Shane A. Bassett
Sydney Unleashed is one of Australia's premier entertainment publications exploring the latest in lifestyle trends. From Sydney's finest restaurants, cafes and bars to the hottest in gadgets, products, and home entertainment, Sydney Unleashed is your one-stop lifestyle platform.