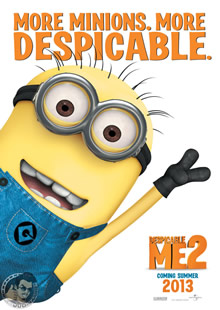 Starring: Steve Carell, Miranda Cosgrove, Russell Brand, Benjamin Bratt, Kristen Wiig (Rated G – 98 min)
Despicable Me 2 is a must-see family film for the upcoming school holidays, adults will enjoy it as much as the kids. The original was a surprise blockbuster in 2010 which I liked very much, it was bright, effervescent, unique and most of all very funny. It had an infectious greatness that made an audience happy, so does the sequel.
The 'Minions', those loyal rotund yellow wide-eyed barrels of amusement are again the life of the film with more screen time and superior 'Benny Hill' style hijinks. Steve Carell returns as the voice of former master villain Gru, a doting father to his three adopted girls Margot, Agnes and Edith. Gru no longer wants to take over the world with evil schemes, he lives as a passive neighborhood type that does nothing but make sure others are happy around him. Reluctantly recruited by hot super spy Agent Lucy Wilde (Kristen Wiig) representing an outfit known as the Anti Villains League AVL, Gru simply says no hoping to remain living the quiet life.
Unbeknown to Gru, an old arch enemy has returned to cause havoc amongst innocent bystanders at the local shopping mall. Gru is now all about being good and chooses not to reignite his fury against this old foe. However, after some hilarious persuasive techniques from the leggy and very single Agent Wilde, Gru agrees to help out the AVL. Could the unobtainable Gru be falling in love? In the meantime, the girls are growing up, especially Margot (wonderfully voiced by Nickelodean tween star Miranda Cosgrove). She starts noticing boys much to Gru's annoyance.
This is a respectable sequel that goes in different directions. Character development is the key, heartstrings are tugged on a regular basis with his lovingly acceptance of his beloved girls. Also, listen out for a random Australian reference during the latter period. Comic relief comes in spades from the Minions, so much so, I believe they deserve their own movie and don't leave early, the yellow troublemakers have their own set of bloopers during the end credits.
Soon to be seen in the much anticipated Anchorman 2, Steve Carell is superior as the odd looking enigmatic Gru. At the recent premiere, he told me himself, his early years as a stand-up comedian helps with the unpredictable nature of being a voice character in such a genius film as this.
Shane A. Bassett
Sydney Unleashed is one of Australia's premier entertainment publications exploring the latest in lifestyle trends. From Sydney's finest restaurants, cafes and bars to the hottest in gadgets, products, and home entertainment, Sydney Unleashed is your one-stop lifestyle platform.