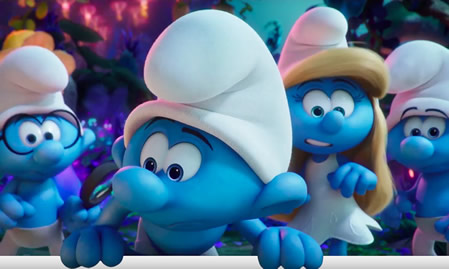 Easter Holiday Movie Guide
Traditionally, Easter cinema-going brings a mixed bag of everything.
Choices this school holidays are no different covering everything from Smurftastic family fun, an Australian TV show brought to the big screen, fast cars, a talking smart-alec (Baldwin) baby, the return of the caped crusader lego-brick style, and that's just to highlight a few. The weather is cooling down, a perfect time to see a movie or two!
**NOW SHOWING**
SMURFS: THE LOST VILLAGE (Rated G, 89 min – suitable for all ages)
Voices; Julia Roberts, Ariel Winter, Joe Manganiello, Gordon Ramsey, Demi Lovato.
Toddlers rejoice! Following on from the happiness of Trolls, it's the return of the friendly smurf village where our blue friends live amid the white mushrooms in tranquillity. That is, until the biggest secret in smurf history sends a group on an adventure with Smurfette leading the way.
BOSS BABY(Rated G, 97 min – suitable for all ages)
Voices: Alec Baldwin, Lisa Kudrow, Tobey Maguire, Steve Buscemi.
When a briefcase-carrying, espresso-drinking, suit-wearing baby with the articulate voice of Alec Baldwin teams up with his seven-year-old brother to save their parents from demise, expect the unexpected.
POWER RANGERS (Rated M, 97 min – most suitable from age 12 years and up)
Starring: Bryan Cranston, Elizabeth Banks, Naomi Scott, Sarah Grey.
Against all odds, this update of the colourful teen quartet gaining extraordinary martial-arts powers they ultimately use to fight off earth crimes and ancient alien invaders, is entertaining for young and old simply by not taking itself seriously.
BEAUTY AND THE BEAST (Rated PG, 129 min – most suitable from age 12 years and up)
Starring: Emma Watson, Josh Gad, Dan Stevens, Kevin Kline.
Wonderful Disney adaptation of the classic epic romantic tale of opposites attract based around the 1991 animated musical gem with a few new songs and added narrative. Must see for amazing production design to immaculate costumes and catchy tunes. Swoon.
DANCE ACADEMY (Rated PG, 100 min – most suitable from age 10 years and up)
Starring: Miranda Otto, Alicia Banit, Xenia Goodwin, Tara Morice.
Excellent big screen installment following on from the extremely popular ABC television teen series catching up with the physical education members now they have parted ways scattered across the globe. Heartache, drama, fun and romance, it's all here.
LEGO BATMAN (Rated PG, 104 min – most suitable from age 10 years and up)
Starring: Will Arnett, Channing Tatum, Jenny Slate, Ralph Fiennes
Because The Lego Movie was a surprise hit, we now have this ludicrous madcap caped crusader alternative full of pop culture references amid non-stop bright loud action fun, could be too overwhelming for some. Funny at times, although wears out its welcome.
**STARTS 13th APRIL**
FATE OF THE FURIOUS (Rated M, 136 min – most suitable from age 15 years and up)
Battle of the chrome-domes, part eight. The long-running series keeps defying logic upping the stunt action theatrics each time to grandiose cinematic effect. Things for 'the family' go awry as Dominic Toretto causes a devastating chain reaction when going rogue.
DR WHO THE PILOT (Rated PG, 75 min – most suitable from age 12 years and up)
Starring: Peter Capaldi, Pearl Mackie, Matt Lucas, Stephanie Hyam.
Screening at select cinemas one day only (Sunday 16th April). Be sure to check session times. Beginning of the final chapter of the adventures of the twelfth Doctor with Peter Capaldi finishing up as the popular time-lord travelling the universe in his police box, there's a new companion too.
**STARTS 20th APRIL**
GOING IN STYLE (Rated M, 96 min – most suitable from age 15 years and up)
Starring: Michael Caine, Alan Arkin, Morgan Freeman, Jamie King, Ann Margaret.
Loose remake of the 1979 classic comedy is worth seeing for the veteran trio of Hollywood royalty alone. Desperate to pay bills, these knockabout guys scheme up a plan to rob the bank they believe ripped them off. You can guess the outcome but rest assured, it's fun.
THEIR FINEST (Rated M, 117 min – most suitable from age 15 years and up)
Starring: Bill Nighy, Gemma Arterton, Sam Caflin, Richard E. Grant, Jeremy Irons.
Amusing British situation comedy about a film crew attempting, in no uncertain terms, to film a war propaganda movie after the infamous Blitzkrieg. Memorable ensemble cast will have audiences in uncontrollable laughter one minute, in tears the next. Must see!
GUARDIANS OF THE GALAXY VOL. 2 (137 min – Yet to be classified)
Starring: Chris Pratt, Zoe Saldana, Karen Gillan, Sylvester Stallone, Bradley Cooper.
These Marvel superheros are not your normal group of galaxy busters. Since joining forces, the misfits from different worlds have become the oddest family in the universe and the funniest. Get ready for plentiful Marvel cameos and an ultra cool retro soundtrack. Starts on Anzac Day (25th April).
Shane A. Bassett
Sydney Unleashed is one of Australia's premier entertainment publications exploring the latest in lifestyle trends. From Sydney's finest restaurants, cafes and bars to the hottest in gadgets, products, and home entertainment, Sydney Unleashed is your one-stop lifestyle platform.