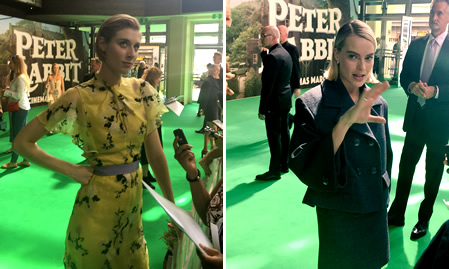 Elizabeth Debicki & Margot Robbie Interview
The lime green carpet was rolled out at Fox Studios Australia for the premiere of Peter Rabbit. Starring a plethora of local and British talent, guests included Flopsy and Mopsy (better known as Margot Robbie and Elizabeth Debicki) looking fabulous talking Beatrix Potter and more.
Hello again Elizabeth Debicki, lovely to see you.
ED – (Shaking my hand smiling) Nice to see you again too.
*Suddenly on my right appeared fellow Peter Rabbit cast member, Sacha Horler. She plays Taxi Driver Betty who took over Elizabeth's attention by catching up right there in front of me. I like Sacha, it's all good. She is an Australian thespian of high regard but the conversation of home-made bags or shirts, I couldn't quite make it out, stunned me enough to lose my train of thought talking with divine Elizabeth.
You're notorious for your extensive research going into a role.
ED – Am I? Well, I do a lot of research – it's beneficial in any role. Growing up with Beatrix Potter, I adore the stories while this script was really excellent so I had to do it.
You shake up your roles in various projects, how do you choose them?
ED – I like to be diverse and challenged. Usually I go off the script then whoever the director may be, that's the key for me.
How do you constantly look amazing while not even trying?
ED – Plenty of help. Like this morning, I did not wake up like this.
Which movie was the big break for you?
ED – I would say Great Gatsby. Unforgettable experience reading for it, filming it, and promoting it…then seeing how well it was received.
Moving over to the US, what advice would you give young actors keen to try LA?
ED – Combination of patience then trying to stay true to yourself and going for it. But be nice to yourself if you don't get a project, it's a funny way to think but all important when preparing for auditions.
What is the hardest thing being in the spotlight now?
ED – Well I am not really in the spotlight. Working so much in recent times, I cannot do a lot of press. This is really dull but I spend a lot of my life jetlagged.
Can you surf?
ED – No but I'm in Simon Baker's film, Breath. See you for another chat then.
*Sacha Horler appearance: Part 2 – Waiting to interview next guest Margot Robbie, lovely Sacha beelines over to apologise for cutting in, introduces me to her delightful daughter and shows off their bunny bags chosen especially for today. We have a quick word on the state of the Australian film industry. I am told a little about her new show Sando, I mention Soft Fruit (1998), then promise to talk again soon. Glittery Margot Robbie arrives, holds out her hand, looks at me to say hello.
Great to see you again! It seems like yesterday we were right here for I,Tonya on the eve of your Oscar nomination.
MR – It was amazing, I was with friends and family in Australia the night they saw the movie for the first time. It couldn't have been a better setting.
I believe you were playing Tonya Harding and Flopsy at the same time.
MR – Thinking of it now, it's crazy as I filmed Flopsy for over a year in between Tonya, Queen Elizabeth 1 and Alison in an indie film, Dreamland. Jumping in and out of Flopsy and three different women was a little manic and fun. It's the dream to be able to do big budget stuff, smaller scale films, animation. I enjoy pushing myself further outside my comfort zone.
Did you enjoy Beatrix Potter when you were younger?
MG – She sure had a presence in my childhood. Also saw television versions and had bowls, tea cups, and saucers with illustrations painted on them.
Describe being Flopsy.
MG – She's a little insecure or unsure of her place standing up or speaking out, taking control. Mopsy is allowed to do all that.
During the Oscars, you were part of the group who went over to the cinema to surprise an unsuspecting Wrinkle in Time audience.
MR – It wasn't planned. At the time, I was looking around going, are we doing this? Then Jimmy was like, yes! So I was thinking alright, I'm in, let's go for it.
When are you going to direct?
MR – Not for many years. If I do, I think I want to, but not for quite a few years yet.
Are we likely to see Harley Quinn back sooner rather than later?
MR – I've been working hard with the studio to get Harley back on screen as soon as possible. Hopefully there'll be news moving forward.
Dundee 3, do you think it will happen?
MR – Maybe we need to contact Paul Hogan directly and say, can we actually make this now? I would definitely invest.
Can you surf, you're a Queenslander?
MR – I am a bad surfer although I can do it. Being from the Gold Coast, it's like a prerequisite (laughs).
Shane A. Bassett
Sydney Unleashed is one of Australia's premier entertainment publications exploring the latest in lifestyle trends. From Sydney's finest restaurants, cafes and bars to the hottest in gadgets, products, and home entertainment, Sydney Unleashed is your one-stop lifestyle platform.