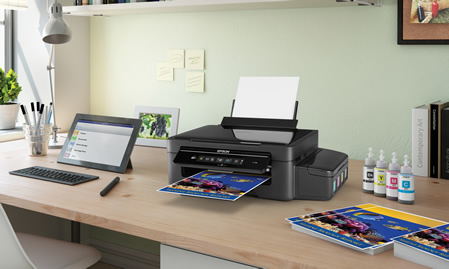 Epson launches EcoTank printers
Epson has revolutionised household and home office printing in Australia and made it incredibly convenient by launching its EcoTank printer range that comes with up to two years of ink included. This means no regular trips or orders to buy ink and the knowledge that, paper aside, most of the costs associated with printing are already paid for. The new EcoTank range consists of the Expression® ET-2500, Expression® ET-2550 and WorkForce ET-4500 aimed at the home user and the WorkForce ET-4550 for the home office user.
The Epson EcoTank ET-2500, ET-2550 and WorkForce ET-4500 and ET-4550 are wireless all-in-one printers with integrated ink systems, ideal for busy homes and home offices looking to cut their printing costs. Thanks to the integrated high-capacity ink tanks, ink is supplied continuously to the printer, so there are no cartridges to replace making printing a hassle free experience.
The use of ink bottles means there are no cartridges to change, ever. If required one simply tops up the tanks and continues printing without worry. Additional high-volume ink bottles can be purchased (all ink bottles only cost $16.99 each except the large black ink bottle for the ET-4550 which costs $24.99) that have a drip free-free nozzle and resealable cap for easy storage. The replacement bottles also hold enough ink to print 4,000 pages in black and 6,500 pages in colour (ET-2500, ET-2550, ET-4500) and 6,000 pages in black and 6,500 pages in colour (ET-4550).
Expression® ET-2500
The compact entry level ET-2500 has auto-setup making it simple to connect all computers and laptops to the printer. In addition users can print wirelessly from Android™ and iOS phones and tablets using Epson's free iPrint app. iPrint is free to download from the Apple App store or AndroidTM Play store and allows users to easily print web pages, Microsoft Office documents, photos and PDFs. The ET-2500 prints up to 4,000 pages in black and 6,500 pages in colour and printing is in three easy steps – fill, setup and print. The ET-2500 also features multifunctional print, scan, copy and Wi-Fi options and up to 2400 dpi scanning.
Expression® ET-2550

The ET-2550 offers everything its little brother does but also boasts a user friendly 1.44″ colour LCD screen, Wi-Fi Direct® for router-free printing, Epson Connect™ which enables printing from iPad®, iPhone®, tablets and smartphones using Google Cloud Print™ via Gmail™ or a Google Drive™ account. Users can also print from a Chromebook and Google Chrome™ without installing drivers or connecting cables meaning that it's now even easier to share Google content from anywhere. The ET-2550's simple wireless connectivity allows users to share the printer with multiple computers and mobile devices (up to four devices at once) and enjoy the freedom to print from anywhere. Setup couldn't be simpler with a plug and play function. Users can choose from using an existing network with 802.11n or Wi-Fi Direct which means no wireless network is required, making peer-to-peer printing easy. The ET-2550 also uses Apple® AirPrint™ which makes it simple to print photos, emails, web pages and documents straight from any iPad® or iPhone®. There's no software to download, no drivers to install and no cables to connect. Apple® iOS® devices will automatically connect to the printer.
WorkForce ET-4500

Next model in the home user area, the ET-4500, offers all the functionality of the ET-2500 and ET-2550 but edges in more flexibility with the ability to help put together and print important presentations or reports using its 30 page automatic document feeder to easily copy, scan and fax. The ET-4500 enjoys the same simple wireless connectivity as the ET-2500 and ET-2550 but boasts a larger 2.2" Mono LCD screen as part of its control panel. The ET-4500 also allows users to easily print from tablets or smartphones using Epson Connect™ and supports Android™, Apple® iPad and iPhone, Chromebook™, Kindle Fire™, Mac® and Windows® devices.
WorkForce ET-4550
The top level EcoTank printer in the range, the WorkForce ET-4550, really raises the bar for home office users as, in addition to having all the key features of the ET-2500, ET-2550 and ET-4500, it is powered by Epson's unique PrecisionCore™ inkjet technology. Not only does the ET-4550 come with up to two years worth of included ink but in this model that constitutes up to 11,000 pages in black and 8,500 pages in colour. As well as Epson Connect™ and Wi-Fi Direct® there is auto two-sided printing, a 30-page auto document feeder, a 2.2″ Mono LCD screen, 150-sheet paper capacity and low-cost, easily refillable ink tanks.
General Manager Sales & Marketing – Consumer Division for Epson Australia Bruce Bealby said, "EcoTank printers and printing are all about convenience and practicality. The ET-2500, ET-2550 and ET-4500 are ideal for those households with basic printing requirements that don't want to continually order ink on a regular basis. The technology is proven and has been highly successful in other markets and now its Australia's turn. These EcoTank models are ideal for all your day to day printing needs such as recipes, homework, e-mails and photos and with two years' worth of ink included1, users know exactly where they stand from a cost point of view. The ET-4550 has PrecisionCore inkjet technology and is ideal for home office use as an entry level WorkForce model. There are also significant environmental benefits by using EcoTank printers as you save on the landfill of used printers and ink cartridges."
At the heart of PrecisionCore is the PrecisionCore MicroTFP print chip. This print chip is modular and can be arrayed in various printhead configurations. Based on the thin film piezo (TFP) technology that Epson has been using in commercial large-format printers, the MicroTFP PrecisionCore print chip offers vastly improved basic performance compared to conventional piezo printheads, including faster speed and more accurate dot placement.
All EcoTank printers are backed by a Epson One Year Return-to-Base warranty. Users can receive an additional one year bonus warranty when they register online within 30 days of purchase giving them a total of two years.
Pricing and availability
The Expression® ET-2550 (RRP $499) and the WorkForce ET-4550 (RRP $699) are available now at Harvey Norman. The ET-2500 (RRP $449) and the WorkForce ET-4500 (RRP $599) are available now at JB HiFi, The Good Guys and Bing Lee.
Sydney Unleashed is one of Australia's premier entertainment publications exploring the latest in lifestyle trends. From Sydney's finest restaurants, cafes and bars to the hottest in gadgets, products, and home entertainment, Sydney Unleashed is your one-stop lifestyle platform.